Production Diary: Halloween
The Beginning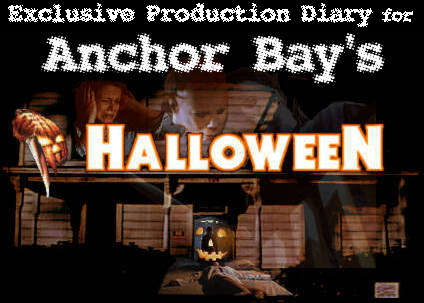 It has been a while since we updated this diary and I'd like to let you know why. First of all, the producer of the Halloween Special Edition, Bill Lustig is currently in Europe supervising a brand new  transfer of Mario Bava's "Shock" for release on VHS, Laserdisc and DVD later this year. As a result he obviously can't tell me much about the progress on the project at this time. The last time we were on the phone – shortly before he left for Rome – he told me that great progress is made and that they are currently authoring the disc, fiddling with the disc's menu screens and such. Hopefully we'll be able to present you those sometime soon exclusively on these pages.
I have been able to talk to Anchor Bay's Jay Douglas the other day however, and I have addressed an issue with him that seems to be on many readers' minds. The lack of a commentary track on the "Halloween Special Edition". We have received a boatload of email from our readers hoping things would change and Anchor Bay would decide to put a commentary track on the release. Since John Carpenter doesn't want to do one, why not get Jamie Lee Curtis, P. J. Soles or even Roger Ebert to talk about the film? All these concerns and suggestions were very valid and helpful, and as I pointed out, I addressed the issue with Jay in our last conversation.
Unfortunately despite all these great ideas, there will be no commentary track on the DVD! Jay tells me that in this project there are so many people involved and that all of them have to consent on every single element that will be released as part of the special edition. That means in practice that clearing needs to be obtained for each trailer, each photo for the gallery, each behind-the-scenes information, each shot from the new "Unmasked 2000" documentary and even for each printed line of text in the liner and production notes. With the number of people now attached to the project it would be literally impossible to get a clearing for a commentary track with anyone else but John Carpenter himself. Hence there will be definitely no commentary track on the release.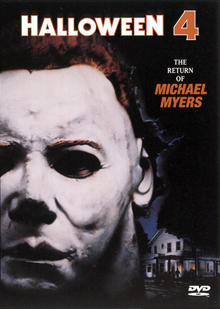 However, to make up for this, Anchor Bay made a quite interesting decision. Because Criterion would not  license their commentary track to them, they sat down and filtered out all the relevant information that has been conveyed in this track. Instead of presenting this information and wisdom in a new commentary track, it will now all be revealed on-camera in the brand new "Unmasked 2000" documentary that is created specifically for this release. That way, Anchor Bay and Lustig were able to make sure that at least the valuable information is not lost in the more than likely case that Criterion will never be able to reuse their commentary track.
In the meanwhile, to help you get over the time, we are able to present you the complete cover art for "Halloween 4" that will be released at the same time as the "Halloween Special Edition". If you click on the image on the right, you will see an enlarged image of the complete front and back cover of the packaging.
We also have the inlay card from the release. As it has become Anchor Bay's practice, the front features the film's original theatrical poster, while the back contains the chapter stops from the movie. Once again, please click on the thumbnails to see larger versions of these images.

Have fun with the material. Next we will hopefully be able to finally unveil some of the materials from the ultimate "Halloween Special Edition"