Production Diary: Halloween
The Beginning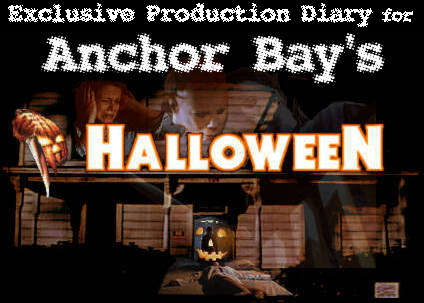 As a result of the new treasures, Anchor Bay quickly decided to make the "Halloween Special Edition" a 2-disc set. The first disc will contain the movie's theatrical version in an anamorphic enhanced widescreen transfer and a pan & scan version, together with all the extras. The second disc will contain the complete TV version in 16×9 enhanced widescreen, with all the scenes for the first time ever as flawless as the theatrical version!
When the color-corrected transfer for the film and clean-up of all the trailers and TV spots was finished, work began on the bonus materials for the release. Anchor Bay was intent on giving fans of the film ever-new material, and as such they have also uncovered a previously unreleased radio interview with Irwin Yablans, who was co-financing the film, from 1978 while he was at the Cannes Film Festival, trying to sell the film. But on top of that, the disc will also contain an extensive still gallery with production and behind-the-scenes stills. This still gallery will also be completely different than the one found on previous VHS releases, and be special for this DVD release. A number of other memorabilia and a trivia game will round up the discs… or so we thought.

Until two weeks ago, when word spread that Tommy Lee Wallace himself was now attached to the project. "Tomorrow we'll know if John Carpenter, too, will be part of the project", Jay told us that day.Bill Lustig had started work on a documentary feature to go on the release. It is an expansion of the original "Halloween Unmasked" documentary found on earlier releases. Called "Halloween Unmasked 2000", the featurette adds new interviews with cast members and the film makers themselves. "We have brand-new interviews with Irwin Yablans, Tommy Lee Wallace, P.J. Soles and Brian Andrews," Bill tells us, "and on Wednesday we're recording John Carpenter".
Unfortunately the release will not feature a commentary track by the acclaimed director. After having recorded numerous running length commentaries for his films, Carpenter simply felt he did not have anything new to say, and politely turned down Anchor Bay's requests.
Sadly Anchor Bay was also unable to license a commentary track from Criterion, who have a policy that does not allow them to license their commentary tracks at all. Why, no one really knows, but maybe the company hopes for a resurrection of the Laserdisc business and its own heydays.
And still while I write these lines, details for this release are changing almost on a daily basis, but we will of course keep you posted on these pages.

After all the work that was done on the film transfer, "Halloween" looked and sounded better than ever. But then lightning struck again. A few days ago, Bill Lustig dropped me a quick line, indicating that the "Halloween Special Edition" will be THX certified a first for Anchor Bay.
"I called Anchor Bay and told them, if you really want to send a message to the fans, we should have this transfer THX certified." Bill suggested and Anchor Bay agreed. So, THX was called in to certify the entire film. The result were numerous pages of required fixes. "They are painstakingly going through the entire film", Bill recalls. "They go through every single detail. It took them one and a half day just to go through the audio, and then 5 days to certify the image. We thought we had a great transfer, but what they do is incredible. After we made all these changes they requested, we now have a version of the film that is even better!" Anchor Bay and Lustig went even so far as to have the brand new TV version transfer certified, as well as the widescreen and the pan & scan versions.
Anchor Bay has decided to make this 2-disc set a limited release of 21.000 copies only, but will also release the disc that contains the theatrical version separately at a later date. As mentioned before, details about the release are changing rapidly, as Anchor Bay and Bill Lustig are working their way towards an anticipated August 17 release date.