Production Diary: Halloween
The Beginning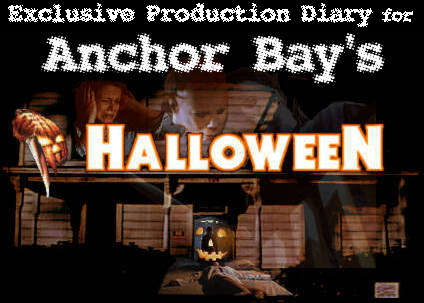 Anchor Bay and Lustig immediately hooked up with "Four Media", to completely restore the negative, element by element. Incidentally "Four Media" had just bought a new telecine machine, which should also help getting a better clearer picture out of the 20 year old negative print, and so, a brand new digital transfer of "Halloween" was born! "If you go through a telecine" Bill Lustig explains, "they usually have the capability to create an incredibly sharp image, but when you down-convert it to the NTSC format, oftentimes you end up with a lot of aliasing artifacts. So I put the transfer through a "Scandal" box to avoid the aliasing distortion for the DVD's 16×9 transfer.

The film was also digitally restored at "Four Media". Even the newly found negative had a lot of negative holes and marks, and a lot of paintbox work was required.

To make sure this new version of "Halloween" will look better than any version of the film ever seen before, Anchor Bay also decided to bring award-winning Adam Adams on board. Adams is a true gunslinger when it comes to color correction of digital transfers and his outstanding work on films like "Titanic", "The Abyss" and "Terminator 2" speaks for himself, I suppose.
It took a long time to get the transfer right and the color correction in place, until in March Jay Douglas told us that he had seen the first screening of the newly restored transfer. He was literally running out of words describing it. "You won't believe this!" he proclaimed excitedly. "This film looks like a brand new movie. Better than H20, actually!"
In the meantime extensive work was also under way to restore the film's audio track, which was just as deteriorated as the image quality of the prints. In order to make sure "Halloween's" audio would be as fresh and clear as the images it would go with, Anchor Bay decided to go all the way to the source, and Bill Lustig contracted none other than Alan Howarth, long time collaborator and co-composer of director John Carpenter. But not even Howarth could help back then. The main problem was that only a composite mono track was available, which gave him very limited room for spatial separation. "As a matter of fact, with such a composite soundtrack you shouldn't even try to create a multi-channel mix at all," Lustig comments.

Before they went any further, Lustig remembered that Warner Brothers had the foreign rights to "Halloween" and through his longtime work with the British Hammer Studios, he had been able to establish a contact and a good relationship with Warner Brothers over the years. He called them up and was able to obtain from them a full 16-track master of the film's soundtrack. With this, Alan Howarth started creating a new stereo mix for the film. "Using Sonic Solutions software Alan and I cleaned up and restored the entire audio track", Bill remembers. "Another guy, Jim Allen, spend some 50 hours or so, just to get rid of all the pops and imperfections." After finishing the stereo mix, they then went to work to remix the film for a full 5.1 channel Dolby Digital mix, starting with the memorable thunderstorm sequence that opens the film. "It took 8—10 hours to just mix the first 8 minutes of the film, and to sweeten it out to create a balanced mix," but over time the entire film would make the transition from its previous monaural existence to a dynamic multi-channel mix.

Once again some time should pass until we heard more, and then things started to heat up even more! "You won't believe what just happened, Guido!" Jay Douglas was audibly excited when he got on the phone with me. During a meeting with Compass International, the original distributor of the film back in 1978, Bill Lustig was given a key to a lock-up storage where the company kept some of their original "Halloween" materials. "You know, Japanese posters, sales sheets, and all that", Jay explains. "We were hoping to find something interesting to put on the Special Edition. Something the fans had never seen before, which isn't easy to come by when dealing with a film like Halloween". What they found that day would change the "Halloween Special Edition" forever!
"While he was going through all the materials, Bill suddenly found film reels." Jay goes on. "And when he took a closer look at them, it turned out they were the original negative prints for the film's TV version." In the lock-up Bill Lustig had uncovered the only known negative print of the the film with all the scenes in it. TV stations usually edit the film when they create their dreaded 'edited for content and length' versions, and no remaining, complete negative had been known in existence.

But while digging even further through the materials, Bill also found the original negative reel of the scenes shot for the broadcast verion of the movie. "And you know what? They were shot in Cinemascope, too!"


This was truly stunning news! While the film has an aspect ratio of 2.35:1, so far belief always had it that the sequences John Carpenter shot later to add to the TV version of the film were shot in a flat aspect ratio. Then, to top it all off appropriately, amidst all the memorabilia, Bill also uncovered a trailer from the film's re-release in 1981, which had not been seen before. If you are anything of a John Carpenter or "Halloween" fan like myself, this was strong tobacco, indeed!
But what's so special about the TV version of "Halloween", you might wonder? Well, that particular version had John Carpenter go back to his film and re-shoot a number of scenes while he was already working on "Halloween II". The TV version contains a slightly different finale of the film, as well as additional footage of a meeting between Michael Myers and Dr. Loomis, among others. In total more than 12 minutes of footage are different in the TV version when compared to the theatrical version of the film.