Warner brings "Castle Rock" to your home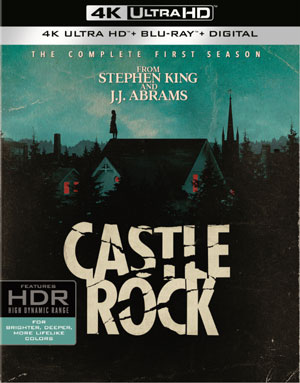 We just received word that Warner Brothers Home Entertainment has added the television original series Castle Rock to its release line-up.
The first season of Castle Rock follows Henry Deaver (André Holland), a Death Row attorney who returns to Castle Rock, Maine, his hometown, after he receives an anonymous phone call from the infamous Shawshank State Penitentiary. The call is about a nameless young man (Bill Skarsgård) who is found locked in an underground cage that's located in a long-abandoned cell block beneath the prison. Upon his discovery, the mysterious young man, with a sinister and unnerving presence, whispers Henry's name. Curious about how and why someone left this boy imprisoned, Henry is drawn into the case and attempts to help him. But there are reasons why "The Kid" was imprisoned.  And reasons why he should never be set free. 
 
Permeated with a sense of foreboding and dread, the haunting small town of Castle Rock is not willing to let Henry leave. Aside from now having to deal with the strange young man found in the prison, Henry is faced with the fact that his adoptive mother (Sissy Spacek), who lives in Castle Rock with retired Sheriff Alan Pangborn (special guest star Scott Glenn), is struggling with the onset of dementia. Reluctantly, Henry stays to figure out just who "The Kid" is and how he wound up imprisoned under such appalling circumstances.
In addition to all 10 episodes that make up the show's first season, the release will also include the Featurettes Blood on the Page and A Clockwork of Horror: Merging the styles of Stephen King & J.J. Abrams. In addition there will be an Inside the Episode featurette available for each of the 10 episodes, taking you behind the scenes of the show.
Castle Rock will be available on January 8 on 4K UHD for $44.98, on Blu-Ray Disc for $29.98 and on DVD for $24.98. For those who can't wait, a Digital version of the show will also be available as soon as October 15.