Warner debuts three Stephen King movies on Blu-Ray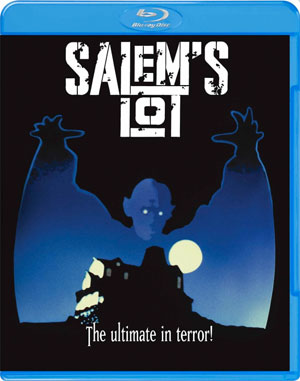 Warner Brothers Home Entertainment has just released information about the upcoming release of Salem's Lot, Cat's Eye and It, brining each of the films to Blu-Ray Disc for the very first time.
In "Salem's Lot," sinister events bring together a writer (David Soul) fascinated with an old hilltop house; a suave antiques dealer (James Mason) whose expertise goes beyond bric-a-brac; and the dealers mysterious, pale-skinned partner (Reggie Nalder) in Salem's Lot — a blood-curdling shocker based on King's novel and directed by Tobe Hooper.
The release will also include an All-new Feature-Length Audio Commentary by Director Tobe Hooper, as well as the movie's International Theatrical Trailer.
In "Cat's Eye," a wandering supernatural felines adventures provide the linking story for Stephen Kings Cat's Eye — a dead-on thrillogy scripted by King and directed by Lewis Teague. The staff at Quitters Inc. promises to help nicotine fiend Dick Morrison (James Woods) kick the habit. Next, a luckless gambler (Robert Hays) is forced into a bet involving a stroll around a building on the five-inch ledge encircling the 30th floor. Finally, our wayfarer kitty rescues a schoolgirl (Drew Barrymore) from a vile, doll-sized troll.
This release will come with a Commentary Track by Director Lewis Teague and the movie's Theatrical Trailer.
"It," takes place in October 1957. It awakens and the small town of Darry, Maine will never be the same.  Stephen King brings to life every childhood fear and phobia as seven children face an unthinkable horror which appears in various forms, including Pennywise (Tim Curry), a clown who lives, hunts and kills from the towns sewers.  Years later, the surviving adults who are brave enough return to stop the new killing spree, this time for good. 
a Commentary Track by Director Tommy Lee Wallace and Actors Dennis Christopher, Tim Reid, John Ritter and Richard Thomas will be included on the disc.
Each title will be available on September 20 with a super-low $14.97 sticker price!