Gotham: The Complete Second Season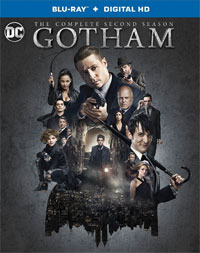 Gotham: The Complete Second Season (2016)
Warner Home Video
Cast: Ben McKenzie, Donal Logue, David Mazouz, Morena Baccarin, Zabryna Guevara, Michael Chiklis, Robin Lord Tayor
Extras: Featurettes
Rating: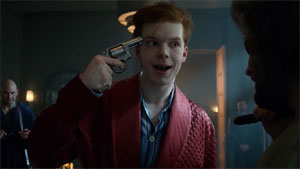 Few television shows have been awaited as eagerly in my household as the second season of "Gotham." With the first season bursting at the seems to coolness, awesome characters, and cool storylines, it is hardly surprising that I sat down with Warner Brothers Home Entertainment's Blu-Ray version as soon as it arrived. And instantly, the vibe was back on…
Picking up where the previous Season ended, Gotham City is a dark and seedy place where bad things happen at every street corner, where darkness breeds and blots out lightness like a sponge. After he got rid of Fish Mooney (Jada Pinkett-Smith) in the previous season, Oswald Cobblepot, aka the Penguin (Robin Lord Taylor), is the new King of Gotham's underworld, but he finds himself opposed very quickly when a new face shows up in the city. On the surface, Theo Galavan (James Frain) is a wealthy businessman who quickly captures the interest of tabloids and the citizens of Gotham as a true hero with only the best of the city at heart. This momentum allows him to quickly become mayor of Gotham and assume all of the powers that come with the office. But underneath the polished surface is a scheming villain with plans to put Gotham under his yoke and an ax to grind with Bruce Wayne (Davi Mazouz).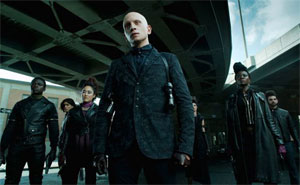 Meanwhile, Detective Jim Gordon (Ben McKenzie) and his partner Harvey Bullock (Donal Logue) bravely continue their fight against the evil the keep spreading across the city but every time the take one step forward, it appears they take two steps back. Fighting the good fight and trying to help Bruce Wayne to find out the truth about his parents' murder begins to border on a dark obsession that not even his spouse, medical examiner Lee Thompkins (Morena Baccarin) can ignore any longer. Helplessly, she watches as Gordon begins to spiral out of control and uses increasingly desperate measures to get results.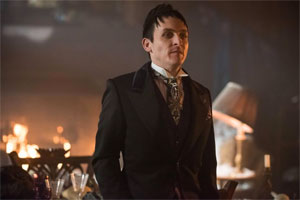 During this Season we also see Ed Nygma (Cory Michael Smith) come into his own, as his split personality surfaces and takes full control of him. At one moment, the department's nerdy forensic analyst and lovelorn charmer, Nygma soon turns into a violent criminal on the drop of a penny.
But even the Riddler has nothing on Doctor Strange (BD Wong), the psychiatrist who runs Arkham Asylum and who has mad scientist written all over him. Fortunately for viewers, his machinations quickly become the center of the entire season and build the foundation for things to come.
Continuing the origin story approach that we saw during the show's first season, the creators of "Gotham" continue to put blips on a radar of things to come, of things we are familiar with from the DC universe. Whether it is Nygma getting closer to becoming the Riddler, the introduction known villains and string pullers, or a cursory glance at Bane, fans of the comic books will find the show to be ripe with references and subtle jabs.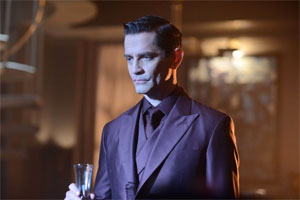 It is a very dark affair, however. Unlike the Marvel universe, which is much more stylized and oftentimes presents a lighter world view, "Gotham" is seedy and violent. Extremely violent, in fact, and in this Season, the creators have amped up the violence quite a bit, bordering on splatter and gore at times. I am not entirely sure I am happy with it because I think it would have worked equally well with less graphic violence, but in all honesty, it is really the only complaint I could level at the show. Other than that, it is simply perfect.
Intriguing plot lines that constantly move and shift, characters that are full of facets and represent a colorful mix of comic book tropes and lore, a world that has a secret behind every corner and the anticipation the show creates by teasing bigger thing constantly makes for truly compulsive viewing. Once you started watching this season you will find it hard to turn it off, so make sure you allow yourself quite a bit of time.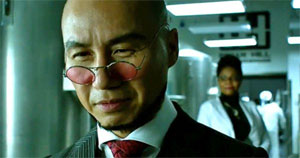 Like last time, Warner Brothers Home Entertainment is presenting all 22 episodes of the show's second season on four discs again. Unlike many other television shows on Blu-Ray, the disc actually remembers where you left off and allows you to resume exactly where you left off. It is such a simple feature that you'd think it is a no-brainer, and yet, so many studios completely overlook this small usability enhancement.
The show is presented in a bold high definition transfer in the show's original 1.78:1 aspect ratio. not a speck can be found on the transfer, not a blemish, and even despite its incredibly dark and contrasting nature, the presentation is entirely without flaws or compression artifacts. Colors are strong and offer vibrant hues throughout, while the image revels in detail that enhances the visual presentation of the world of Gotham in every frame—from vista shots of the city down to extreme close-ups.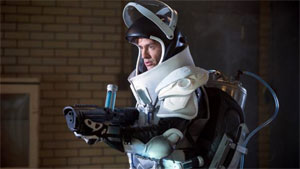 The release features a massive 5.1 DTS-HD Master Audio track, and when I say massive, I mean it. Putting many movie tracks to shame, the audio presentation has an incredible bass extension that is evident throughout. Whether it's action scenes or moments of suspense, your subwoofer will be assaulted by low-frequency clusters that can shake your house to its foundation. The rest of the mix is equally aggressive, making full and constant use of split surround channels to create a sonic environment that completely envelops viewers.
Over 90 minutes of bonus materials are included on the release, giving you a solid look behind the scenes and into the DC universe, as portrayed by "Gotham." For the most part, these bonus features consist of featurettes that cover the show's production, cast and characters, including character profiles, as well as Comic Con footage and other exciting gems that fans of the show should devour.
"Gotham" is a true-spirited thrill ride. Every episode will leave you breathless, wanting for more, sitting on the edge of your seat with its glorious cliffhangers. The dark, noir atmosphere of the show and its high production values make it a true television highlight that stands easily shoulder to shoulder with the best superhero movies. The sad thing is that now the long wait begins for the show's third season.