David J. Skal: Hollywood Gothic

Bela Lugosi's impersonation of "Dracula", Boris Karloff as the "Frankenstein" creature, Lon Chaney Jr. as the "Wolf Man", all these images have become part of our popular culture to the point that even children are familiar with their likeness. These actors and the people behind the camrea have created monsters that are memorable and unfading. Their popularity is just as high today as it was almost 70 years ago when they first graced the silver screen.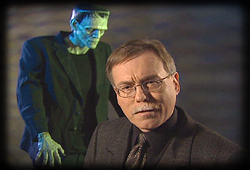 As a fan of classic horror films with an unquenchable thirst to learn more bout the myths and the mysticism behind these phenomena one will inevitable stumble across one name at one point or another, and that name is David J. Skal. Author of many books about classic horror films, especially the early Universal releases, David Skal is a film historian that has brought much unknown information about these films and their creators to the light of day. His book "Hollywood Gothic" for examples explores exhaustively the origins of the "Dracula" myth, from the real Vlad Tepes, the novel by Bram Stoker and the legal battles involved when the German film "Nosferatu" first plagiarized the property, over the various theater adaptations, all the way to Universal's classic movies and their heritage. It is a documentary of "Dracula" as a whole but Skal's witty and eloquent writing makes it a tour-de-force to read and is highly recommended. The same is true for his other books that cover the Mad Scientist phenomenon, director Tod Browning's work and many others in exquisite and entertaining detail.
Most recently David Skal has worked closely with Universal Home Video for the re-release of their classic monsters on DVD. Producing extensive documentaries, commentary tracks, photo galleries and plenty of other supplements, David J. Skal is the man behind all the special features found on Universal's recent DVD releases of "Frankenstein", "The Mummy", and all the other incredible films in their "Classic Monster Collection".
"Over the past I was helping Universal on and off on various occasions," Skal remembers the origins of his involvement with the project. "For example, I was a consultant of the Universal Studios theme park in Florida for the 'Halloween Horror Nights' ride and I was collecting memorabilia for the Classic Monster Cafe."
"I have also been a consultant on the documentary called 'Universal Horror' and produced the behind-the-scenes documentary for 'Gods and Monsters', even before Universal picked it up."
David Skal was working very close with the film's director Bill Condon to create a documentary about the creation of the incredible 'Gods And Monsters' tribute to Hollywood legend James Whale, the creator of 'Frankenstein' and other horror cult classics. "In the first cut we didn't use any of the clips from the classic James Whale films in the documentary," he explains. "When Universal finally picked up the rights to the film, we had the chance to go back, find scenes from these films and use these clips from Whale's films as part of the documentary".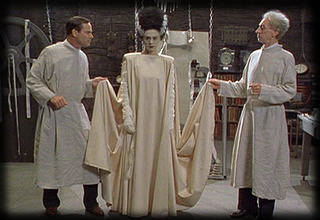 The result of his work can be seen on the "Gods And Monsters" DVD. A documentary that is extremely informative and entertaining, just as Skal's writing. Shortly thereafter he was sought out by Universal again. "They then approached me and asked if I would like to do five more [documentaries] for them, this time for the Classic Monster Collection.?
I have just finished the last one of them, which was 'Dracula'. It will be a great release, the most elaborate of all the classic monster special editions. It contains the Spanish version of the film, the original movie and the one with the new soundtrack by Philip Glass. I actually had to do some trims to the documentary because we were pushing the space limits on the disc, even with the compression DVD offers."
Asked about the quality of this release which we won't be able to witness until December, Skal gets very excited. "You will love this release! Especially the Spanish version has a very beautiful quality.
We had practically pristine reels, one reel from Cuba that I tracked down a few years ago." Although most of the negatives required some attention, these reels had hardly been used. As a result the print is very clean without many scratches or speckles. "Some scenes from the Spanish version look like they were shot yesterday," Skal confides. "The DVD looks very much like a projected film print."
Unfortunately that was a luxury that doesn't come around very often. Although all the re-masters of these classic films we have seen on DVD so far look and sound stunningly beautiful considering their age, "The Mummy" still contains noticeable defects from wear and tear over time. "The original camera negatives are no longer used for these films," Skal tells me. "They use fine grain prints, 'lavender prints' as they call them. I just got the Mummy and compared to the last video release it looks fabulous."
"However, they did a lot of work on the soundtrack for Frankenstein. They de-noised it in a very sophisticated way taking out surface noise even underneath dialogue. In the past, in soundtracks they simply turned the volume up and down, which of course isn't nearly as good." Today's technology allows sound engineers to actually take a sample of the noise floor from a quiet scene that is then used throughout the movie as a detection sample to separate noise from the signal. With the increase in processing power we see in today's computers, this technology has advanced to a point that even the most problematic material can be de-noised with limiting the track's dynamics or sonic spectrum. Sadly these procedures are still very costly and time consuming and could not be done for "The Mummy".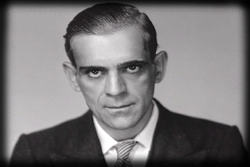 One thing collectors and lovers of these films were looking forward to the most was the complete restoration of James Whale's "Frankenstein" which had a few shots removed many years ago. After that these scenes vanished into obscurity and had long been lost and only been rumored to exist.
"I dug up the last remaining copy of the censored dialogue from the film." Skal explains his work on "Frankenstein". He is referring to a short snippet in which Colin Clive says "Now I know what it feels like to be God!" after creating his creature. For the longest time this scene had been removed from all available prints and is easily identifiable by a jump-cut right after the creation. "The God scene is from a private collector, Donald Gluth, who had it in his archives. He tape-recorded the original soundtrack reel-to-reel before the dialogue was taken out in 1937.
Interestingly they censored this scene differently in different states around the country and at one point it completely disappeared from the master soundtrack."
Another scene that fell victim to the scissors a long time ago was the scene at the pond when the creature is playing with the little girl. This scene will most likely never be completely restored and although the shots where the creature throws the little girl into the water, expecting her to float just as the flowers, have been uncovered, there are still two shots missing from the film. In one we see the girl actually go under the water and in the other we see the bewildered look on the creature's face, not understanding what just happened. "The Pond scene was restored 10 years ago, using materials form the BFI (British Film Institute) print." Skal remembers.
One other highlight on the "Frankenstein" DVD was a short film called "Boo!" It is a hilarious spoof made up of clips from various horror movies. Thanks to David Skal's efforts this little gem made it to the DVD release, who felt very strongly about its inclusion and practically lobbied for it. "We tried to come up with different extras on each one of the releases. There aren't too many of these things around unfortunately, but whenever we had something, we included it as a surprise."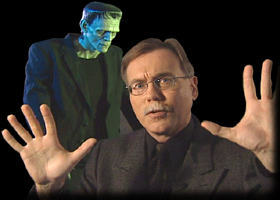 "The Dracula documentary for example contains a bit of Edward Van Sloan's screentest from Dracula, as well as the end curtain speech. Remember, in Frankenstein he had the opening curtain speech? In Dracula he originally had an end curtain speech as Dr. Van Helsing. Sadly it was not in good enough shape to put it in the film, but we included it in the documentary." Skal reveals.
"We also tried to recreate the missing scenes from 'The Mummy' and 'Bride of Frankenstein', and I'm trying to put together these animated photo-montages." And indeed the still galleries on these releases are a far cry from the ones found on Laserdisc. Using the film's music score they are self-running slide shows that pull the viewer right into the film's enigma.
Skal also fondly remembers his collaboration with numerous of his film historian colleagues that he made part of the presentations. "We had some great people to do the documentaries and the commentary tracks. I wanted to make sure none of the material is directly based upon my books.
?I felt like throwing a party for all the film historians to do all that. I tried to get them all together, and even got people like John Landis to do a commentary and Joe Dante as a host. The funniest one is on 'Dracula'. We have an introduction by Carla Laemmle as a voice-over. She's now 90 years old and really enjoyed doing this with us."?
The success of the Classic Monster Collection on DVD has been incredible. The discs are selling like hotcakes and hardly surprising Universal is planning to extend the series. David Skal and Universal have started talks about another six films that should find their release in 2000.
Personally I always find it interesting how one's perspective on things can change when you start analyzing them in detail. So which one is David Skal's favorite horror classic after all? "Bride of Frankenstein, nothing comes close to being as ambitious," he replies without hesitation. "It is such a personal film of James Whale and it is surprising that he managed to get it done within the studio system. It is an outstanding film not only in the horror genre, and holds up among any American movie. It still has the most delightful performances, and the mix of humor and horror pushes so many buttons. It clearly sustains multiple viewings the best of them all."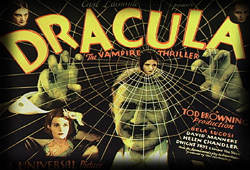 As an admirer of the film and James Whale's work in general, being on the set of "Gods And Monsters", which recreated parts of "Bride Of Frankenstein", was an almost surreal experience for Skal as he tells me. "When I was working with Bill Condon on the documentary of 'Gods and Monsters', I literally camped out on the set for the entire time of the shoot. There's a short version of the documentary that has been shown on TV and then the full-length version that can be found on the DVD. It was so much fun on the set of Bride of Frankenstein, to really be there and see it happening. It's an incredible film and there were all these very talented people. And everyone worked at 200%, giving the absolute best."
Almost 70 years old, Tod Browning's "Dracula" is still the authority in the field, as is "Frankenstein". There must be something about  these films that makes them so unique. Clearly, if these films were shot and released today, no one would really pay any attention to them. "The Dracula and Frankenstein images in particular are major modern mythologies and quite bigger than the actual movies themselves'" Skal explains this phenomenon. "They're going back to roots in English literature at the beginning of the 19th century, folklore, mythology and so on.
As such they are plugging into something bigger than film. On a simple level there is a tension between one monster and another. They took root in the American imagination during the Great Depression, and ultimately they are images of fear. People today have difficulty appreciating just what it was like back then when these films were first released. There were no social safety nets, anxiety was everywhere and films were a way of focussing."
"They are not that shocking, but they are disturbing. They create a mood of dread that I think, if they were released at a different time they would not have had the same power as they do.?
They are also very adaptable, and change with the time. Each new generation has something new to find in Frankenstein, Dracula and it just keeps them going."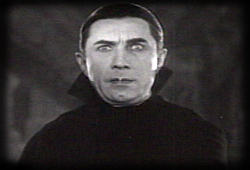 We have seen a very strong wave of horror films in recent years, a resurrection of the genre after a complete demise in the early 90s. Their box-office appeal is bigger than ever and new horror films appear faster than we can digest them. "I think scary stories are perennially attractive because they're stimulating, like a roller coaster ride. You hold your breath, your heart rate increases, and so on. It is a mild high that comes with that kind of entertainment."
"I think in the 90s the kind of horror stories that are popular do reflect the times. Social alienation, technological horror are contemporary issues and the gothic horror has given way to Arnold Schwarzenegger as the 'Terminator'. To a degree, he is the new Frankenstein monster.
?The vampire theme of 'Dracula' is so much popular culture today. Any dysfunctional relationship is a metaphor of vampirism. The serial killer is kind of a vampire. Alien abduction stories are somehow related to vampirism, in that they tell about body fluids that are extracted. We simply find new stories, appropriating new forms, but ultimately people do enjoy the sensation of goose bumps."?
"There are a great many ways to interpret horror and its effects and I know that some people don't like to interpret it at all, because they think it takes the fun out of it. I don't think so. To me it makes it all the more interesting."
The sudden surge of horror themes and violence in popular cinema has—not unexpectedly—created another controversy about the impact films have on the movie going audience. How does a horror film impact our social behavior, how can violence in film be related to the news we see on TV every day? Can they be related at all??
"I think its baloney'" Skal replies immediately, and having analyzed and studied the effects of horror films for many years he's the one who knows. "I'm really not a media basher," he continues, "but we have to be rational. Do media influence people? Yes, but not in the simple-minded ways some people make you believe that you once saw a horror film you will then become a mass murder. The reasons why there are these people who commit those atrocities come from the totality of their lives and not the films they watch."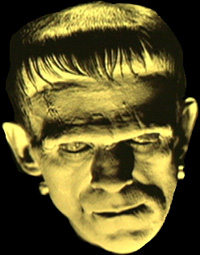 "I do agree however that people are watching far too much films and spend too much time in front of the TV or the computer screen. The content is a red herring, but you can destroy a kid's attention span, by allowing it to watch too much TV. People who spend all their time in an entertainment reality are never learning how to work in a real world, how to socialize. It's not a matter of content, and those are really taboo questions, but I think it's very obvious. To simplify matters and say 'People are empty vessels that become what they look at' is an overly superstitious way to come to terms with it."
Skal also remember the waves of outrage that went through the country in the 50s. "The same argument went on in the 50s with the rise of the comic books that were supposedly turning kids into sex maniacs."?
"It is not to say the whole subject of media displacing life is a big issue, ultimately, the question becomes, why do people content to split off from society and spend all non-waking hours in front of the screen?"
Currently David Skal is wrapping up the documentaries for the Classic Monster Collection DVDs and has started work on another book. Although he has not found a publisher yet, he explains that it will not be a specific horror book. This time, he will take us into the Pop Culture and the American Identity, and then work will slowly be starting to build up for the next wave of Universal Classic Monster Collections, a bunch of releases DVD fans around the world can't wait to get their hands on.