"Bram Stoker's Dracula" hits 4K UHD in October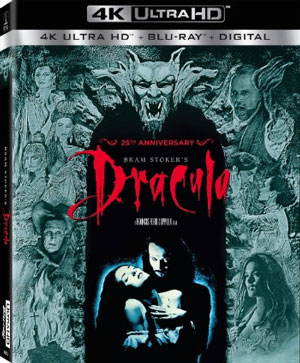 Sony Pictures Home Entertainment has just revealed details about the upcoming release of Francis Ford Coppola's Oscar® Winning Horror Classic, Bram Stoker's Dracula as a 4K UHD version to celebrate the movie's 25th anniversary in October.
Originally released in 1992, Bram Stoker's Dracula follows the devastatingly seductive Transylvanian prince Dracula (Gary Oldman), who travels from Eastern Europe to 19th century London in search of human love. After centuries alone, the charismatic Dracula meets Mina (Winona Ryder), a young woman who appears as the reincarnation of his lost love and the two embark on a journey of romantic passion and horror.
The release will feature a remastered 4K ultra high definition transfer with a Dolby Atmos audio track. In addition, the release will include a Commentary Track and Introduction by director Francis Ford Coppola, as well as the 1993 Audio Commentary with Francis Ford Coppola, Roman Coppola and Greg Cannom.
Further, you will find four Legacy Featurettes on the releases, culled from previous home video releases, as well as the Featurette Reflections in Blood:  Francis Ford Coppola and Bram Stoker's Dracula and Practical Magicians:  A Collaboration Between Father and Son.
The release will be rounded out by a selection of Deleted Scenes.
Bram Stoker's Dracula will be available as a 4K UHD version on October 3.