The hunt for the killer of "Child 44" commences in August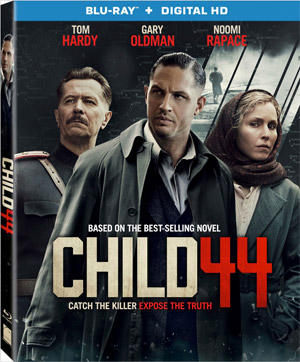 Lionsgate Home Entertainment has just added the politically charged thriller Child 44 to its line-up, scheduling the post-war period film for release on Blu-Ray Disc and DVD in early August.
After a friend's son is found dead, Soviet secret-police officer Leo Demidov (Tom Hardy) suspects his superiors are covering up the truth.  When Leo dares to raise questions, he is demoted and exiled to a provincial outpost with his wife (Noomi Rapace).  There, Leo soon discovers other mysterious deaths with similar circumstances and convinces his new boss (Gary Oldman) that a deranged serial killer is on the loose-and must be stopped before he strikes again in this electrifying thriller.
As a bonus feature, the release will also contain the Featurette "Reflections of History," that takes a look behind-the-scenes at the film crew's work recreating the 1950s Soviet Union.
"Child 44" will arrive in a store near you on August 4 for$24.99 on Blu-Ray Disc and $19.99 on DVD.