Lionsgate send "Unlocked" your way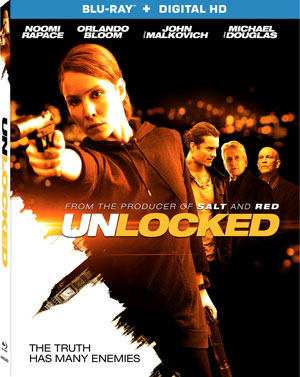 Lionsgate Home Entertainment has just announced the upcoming release of the action-thriller Unlocked, scheduling Blu-Ray Disc and DVD versions for release in November.
Noomi Rapace stars in this action-thriller as Alice Racine, one of the CIA's top interrogators, whose career is sidelined after she fails to unlock a prisoner in time to save the lives of dozens of innocent people from a terrorist attack in Paris. Now, leading a quiet life in London as a caseworker, Alice is unexpectedly called back into action when the CIA apprehends a suspect believed to have direct knowledge of another imminent attack. Turning to the few people she can trust (Michael Douglas, John Malkovich, and Toni Collette), Alice seeks out the responsible parties as she races against the clock to prevent a deadly biological attack on the citizens of London.
Also starring Orlando Bloom and directed by Michael Apted, this riveting thriller will also come with a Making-Of Featurette and feature a 1080p high definition transfer in the movie's original 2.40:1 aspect ratio, along with a 5.1 DTS-HD Master Audio track.
Unlocked will arrive on November 14 for $21.99 on Blu-Ray Disc and $19.98 on DVD.