The stakes are even higher in David Fincher's "The Game" in high definition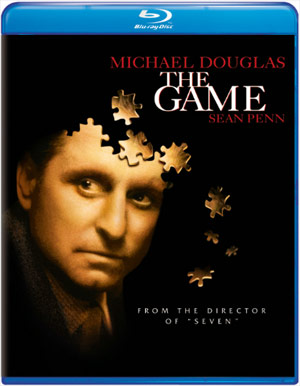 Universal Home Entertainment has added David Fincher's 1997 thriller The Game to its roster also, scheduling a Blu-Ray Disc version of the film for release in July.
There are no rules in The Game… which will make life very difficult for Nicholas Van Orton (Michael Douglas), a successful San Francisco businessman who is always in control.  Van Orton lives a well-ordered, wealthy lifestyle until an unexpected birthday gift from his wayward brother Conrad (Sean Penn) threatens to destroy it all.  Against his will, Nicholas has been enrolled in a game – a strange and "profound life experience" that begins quietly, but soon erupts into a domino effect of devastating events.  Van Orton has to win this deadly, live-action game before it consumes his entire life.
The taught and fascinating thriller will be presented in a 1080p high definition transfer on the release, accompanied by a DTS 5.1 HD Master Audio track. Unfortunately, Universal Home Entertainment has decided not to add any bonus features other than the film's Theatrical Trailer to the release, which is unfortunate.
Still, come July 14 you can own "The Game" on Blu-Ray Disc for only $19.98.