"Swiss Army Man" floats to your home in October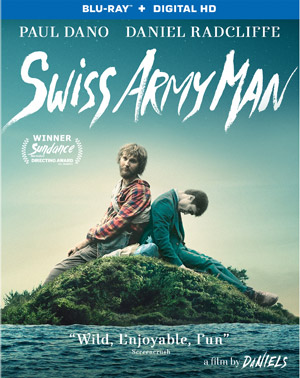 Lionsgate Home Entertainment has just announced details about the upcoming Swiss Army Man, scheduling the morbid and slightly bizarre tale for release on Blu-Ray Disc and DVD in early October.
Hank (Paul Dano) is stranded on a deserted island, having given up all hope of ever making it home again.  But one day everything changes when a corpse named Manny (Daniel Radcliffe) washes up onshore. The two become fast friends and ultimately go on an epic adventure that will bring Hank back to the woman of his dreams.
The release will feature an Audio Commentary Track with the writers and directors, as well as a selection of Deleted Scenes.
You will also find a Q&A with the Filmmakers on the release, along with the Featurettes "Swiss Army Man: Behind the Scenes" and "Making of Manny"
"Swiss Army Man" will be in stores on October 4 and will be available on Blu-Ray Disc with Digital HD for $24.99 and on DVD with a Digital Copy for $19.98.