Get the answers to "What If" in November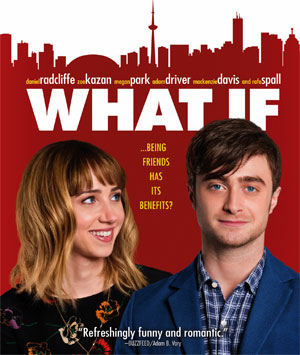 Sony Pictures Home Entertainment has announced the upcoming release of the comedy What If, scheduling Blu-Ray Disc and DVD versions for late November.
"What If" is the story of medical school dropout Wallace (Daniel Radcliffe), who's been repeatedly burned, by bad relationships. So while everyone around him, including his friend Allan (Adam Driver), seems to be finding the perfect partner (Mackenzie Davis), Wallace decides to put his love life on hold. It is then that he meets Chantry (Zoe Kazan), an animator who lives with her longtime boyfriend Ben (Rafe Spall). ?
Wallace and Chantry form an instant connection, striking up a close friendship. Still, there is no denying the chemistry between them, leading the pair to wonder, "what if" the love of your life is actually your best friend?
Among the bonus features on the DVD version you will find the Featurette "Blurred Lines", in which the cast and filmmakers explore the film's themes and talk about their experience shooting this modern love story. Also included is the Featurette "Opposites Attract", letting fans hear from the cast and crew on the dynamics between Chantry and Wallace, as well as their hilarious friends.
In addition to these supplements, the Blu-Ray version will also include Deleted Scenes and the Featurettes "A Modern Love Story", introducing viewers to the entire cast, and "Behind the Scenes of What If", featuring cast and filmmakers in an 18-minute in-depth discussion on the film's production.
"What If" will be in stores on November 27 for $35.99 on Blu-Ray Disc and $29.98 on DVD.