"The Battle of the Five Armies" ensues in November
In keeping with tradition, Warner Brothers Home Entertainment has just announced an Extended Edition of Peter Jackson's The Hobbit: The Battle of the Five Armies, scheduling it for release on Blu-Ray Disc and DVD in November.
"The Hobbit: The Battle of the Five Armies" brings to an epic conclusion the adventure of Bilbo Baggins (Martin Freeman), Thorin Oakenshield (Richard Armitage) and the Company of Dwarves. The Dwarves of Erebor have reclaimed the vast wealth of their homeland, but now must face the consequences of having unleashed the terrifying dragon Smaug upon the defenseless men, women and children of Lake-town. 
 
As he succumbs to dragon-sickness, the King Under the Mountain, Thorin Oakenshield, sacrifices friendship and honor in search for the legendary Arkenstone. Unable to help Thorin see reason, Bilbo is driven to make a desperate and dangerous choice, not knowing that even greater perils lie ahead. An ancient enemy has returned to Middle-earth. Sauron, the Dark Lord, has sent forth legions of Orcs in a stealth attack upon the Lonely Mountain. 
As darkness converges on their escalating conflict, the races of Dwarves, Elves and Men must decide – unite or be destroyed. Bilbo finds himself fighting for his life and the lives of his friends as five great armies go to war. 
The Extended Edition of the movie will features 20-minutes of additional footage inserted back into the movie and will offer up over 9-hours worth of bonus features.
Among these features are a Commentary Track with Peter Jackson and Philippa Boyens, as well as Parts XI and XII in the ongoing Documentary series "The Appendices", which showcase a chronological history of the filming of "The Battle of the Five Armies," documenting the work done on set chronologically through the three shooting blocks and in the world of its digital effects.
Also included is "New Zealand: Home of Middle-earth – Part 3", visiting the breathtaking locations where the film was shot.
"The Hobbit: The Battle of the Five Armies Extended Edition" will arrive in stores on November 17 and can be yours for $35.99 on Blu-Ray Disc and $34.99 on DVD.
If you are looking for the 3D version of the movie, you have to look no further than Amazon, who will exclusively release a 3D Blu-Ray/Blu-Ray and Digital HD combo of the film for $54.98.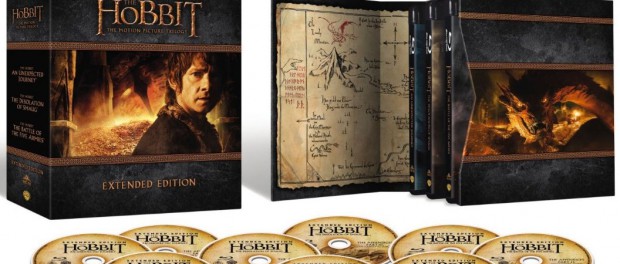 In addition,
The Hobbit Trilogy Extended Edition
will also be available for $99.98, featuring the extended editions of all three films in The Hobbit Trilogy.