Sony to release "The Da Vinci Code" and "Angels & Demons" in 4K Ultra HD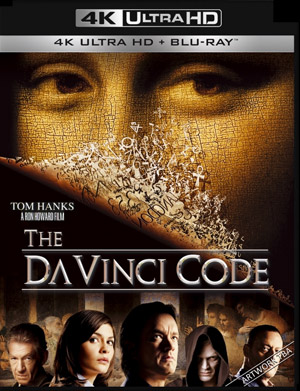 Sony Pictures Home Entertainment has just announced the upcoming release of Ron Howard's The Da Vinci Code and Angels & Demons as 4K Ultra High Definition Blu-Ray versions in October.
Timed to celebrate the theatrical release of the third movie in the franchise, "Inferno," later this year, the releases will feature hot new 4K presentations of the movies with Dolby Atmos audio tracks, but also with all-new Interviews with Tom Hanks, Ron Howard, Dan Brown and Brian Grazer, as well as a First Look at the highly anticipated "Inferno." Both versions will also include all the bonus features found on the previous Blu-Ray releases.
In The Davinci Code, the murder of a curator at the Louvre reveals a sinister plot to uncover a secret that has been protected since the days of Christ. Only the victim's granddaughter and Robert Langdon (Tom Hanks), a famed symbologist, can untangle the clues he left behind. The two become both suspects and detectives searching for not only the murderer but also the stunning secret of the ages he was charged to protect.
In Angels & Demons, Tom Hanks stars as professor Robert Langdon, the most respected symbologist in the United States, who uses his knowledge in order to decode a symbol on the skin of a murder victim. The clues put him on the trail of an international conspiracy involving the Catholic Church.
"The Da Vinci Code" and "Angels & Demons" will be available as 4K UHD versions on October 11. In addition, new Blu-Ray versions, containing the new bonus features as well, will also be released on the same date.