"Doctor Who: Deep Breath" arrives in September
Doctor Who has returned to television screens this week, and the twelfth doctor has just officially stepped out of the Tardis. To satisfy fans around the world, BBC Home Entertainment has just announced the feature-length season premiere episode Deep Breath for release on Blu-Ray Disc and DVD.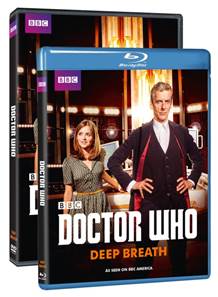 When the Doctor (Peter Capaldi) arrives in Victorian London he finds a dinosaur rampant in the Thames and a spate of deadly spontaneous combustions. Who is the new Doctor and will Clara's friendship survive as they embark on a terrifying mission into the heart of an alien conspiracy? The Doctor has changed. It's time you knew him. Directed by Ben Wheatley and written by Emmy-winning lead writer and executive producer Steven Moffat, the beginning of the Twelfth Doctor's era stars Peter Capaldi as the Doctor, Jenna Coleman as his companion Clara Oswald, Neve McIntosh as Madame Vastra, Catrin Stewart as Jenny Flint and Dan Starkey as Strax.
As bonus features the release also includes the Prequel Scene only seen in theaters, as well as a Behind the Scenes Featurette that has only been seen in theaters before.
Doctor Who Live: The Next Doctor is the live announcement of the casting of Peter Capaldi as the next Doctor, while The Real History of Science Fiction: Episode 4 – TIME is a documentary that series delves into the real history of science fiction, with this particular episode focusing on time travel. Steven Moffat, David Tennant, Karen Gillan, and Neil Gaiman offering a unique perspective on the Doctor.
"Doctor Who: Deep Breath" will be in stores on September 9 for $24.98 on Blu-Ray Disc and $19.98 on DVD.