Belated Thoughts about CES 2016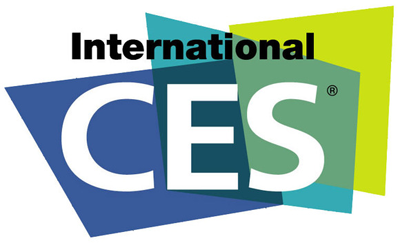 The exhibits have long been dismantled and shipped home. Weary journalists have re-scattered across the globe. Las Vegas is already welcoming the next trade assemblage into its glittering arms. With the exception of print magazines awaiting their lead time to catch up with their reportage, the show has already been thoroughly examined, analyzed and dissected. For most reporters, enthusiasts, let alone general consumers, the 2016 International Consumer Electronics Show is officially relegated to the history books. So why chime in now?
For starters, I learned a VERY valuable life lesson at this year's show. NEVER ATTEND THE CES WHEN YOU'RE SICK! Just before the New Year, I caught a cold. Ingested copious amounts of Vitamin C, Zinc, and Echinacea, hoping I could lick the infection by Opening Day. Not exactly. Between the usual exertions of traversing the show floor, breathing the delectable ether of air conditioned/cigarette smoke ambience, and continually reconciling the extremes of outdoor cold and indoor heat, I returned from CES with acute bronchitis. Recovered now, but it took the first month of the New Year. During that time, oodles of postings have reported not only the factual tidbits of the latest product announcements but also the requisite editorial digestion about "what it all means" for the industry and its patrons. Two columns ago, I talked about avoiding buying a 4K TV on Black Friday, musing if the then-upcoming CES would prove it a short-sighted decision. Amid the generous coughing spasms, I didn't face palm myself as much as I had feared. So, realizing I'm ruminating from the caboose of consumer electronics journalism, here are my observations from the 2016 Consumer Electronics Show.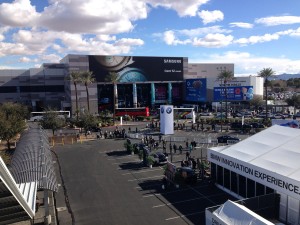 4K Ultra HD Blu-ray and 4K UHD TVs
The wait is finally over: 4K Ultra HD Blu-ray has arrived. The Samsung UBD-K8500 4K UHD Blu-ray player retails for $399, and there's an A/V store not five miles from where I write that has it in stock. $399! Far below the entry price point for the first VHS, Betamax, laserdisc, CED, DVD, HD-DVD, and Blu-ray players. Both Panasonic and Phillips unveiled 4K Blu-ray players as well, with Panasonic's going for $499, brandishing a THX Certification logo on its faceplate. The other usual suspects in the Blu-ray player arena – LG, Toshiba and Sony – were curiously absent in showing manufacturers' solidarity with the new format. Many conventioneers speculated that the PS4 might be a firmware update away from becoming Sony's first 4K UHD Blu-ray machine (Multiple sources later, the speculation was quashed, but not definitively so.).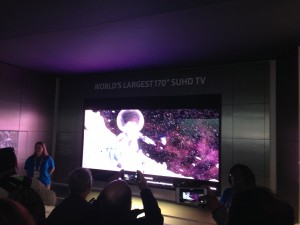 More importantly, the UHD Alliance announced that, for the most part, all the specs for the 4K UHD Blu-ray playback have been finalized, as well as UHD specifications for displays. Going into the show, there was much hand-wringing over competing HDR codecs and a general concern if the format was perhaps not ready for prime-time. From what I saw at the show – via television displays, hardware demonstrations and most importantly a sit-down with a Blu-ray Disc Association spokesperson – all the elements are in place for 4K UHD Blu-ray to enter smoothly into the marketplace. For anyone who might think that 4K UHD is only a lateral upgrade from HD Blu-ray, seeing 4K UHD with HDR on a 65" flat screen no thicker than a notebook was truly something to behold. There's been grumbling about the initial 4K Blu titles. I'm with ya there. I never knew there was such yearning to see Hancock or Salt or Fantastic Four in Ultra HD Premium. However, in all fairness, every format launch started off with title selections that could be best described as "meh." With catalog titles such as Bridge on the River Kwai and Lawrence of Arabia already on the radar, retro cinema fans may not have to wait long for some of their library favorites to be upgraded.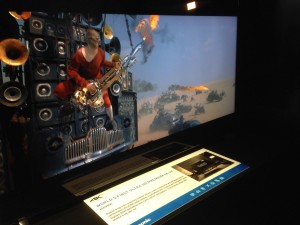 On the display side, 4K UHD TVs with HDR and Wide Color Gamut were in full force. Which means, for the most part, the 1080p HD monitor is officially old technology. This time next year, buying a new 1080p HD flat screen will be akin to purchasing a DVD-only player. With the specs settled (there's still some quibbling about Dolby Vision's HDR processing and which device interprets it), anyone buying a 2016 4K TV – especially if it's got the Ultra HD Premium seal of approval — should be able to interpret 4K programming "with benefits" from any packaged media or streaming source. Prices for 2016 sets were spotty to find, with lots of TBAs. Between the phenomenal sales numbers of 4K sets on Black Friday and Super Bowl Sunday (recently designated THE #1 sales reason for purchasing big screen TVs), I can't imagine prices radically higher from what's currently hawked at Best Buy or Amazon. Even though I'm not sold on 4K Blu-ray becoming more than the 21st century equivalent of laserdisc, when I saw an excerpt of Apocalypse Now demo'ed in the UHD Alliance suite in 4K HDR, I prophesied another river of red ink on my credit card balance.
3DTV – RIP
I'm sad to see that 3D become a non-starter at CES. Once deemed the savior of the home entertainment industry, 3D in the home just couldn't get past the myriad technical shortcomings, including persistent ghosting and crosstalk, bad 3D conversions or 3D so subtle you could forego the glasses. I hoped that with 4K, the next gen monitors would resolve the glitches for more consistent – and pleasing — 3D (albeit 1080p) playback. According to a recent news posting, Samsung's 2016 4K sets will not be 3D-capable and LG will only offer the option on their premium monitors. Coupled with the 4K Blu-ray spec ignoring the feature altogether and I think I hear the faint reverb of a hammer hitting a proverbial nail. However, should Disney announce a 3D Blu-ray for Star Wars Episode VII: The Force Awakens…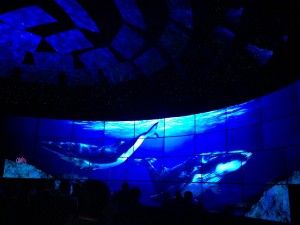 The "By Appointment Only" Proliferation
Over the years, I've noticed a decidedly inhospitable trend. More and more exhibitors are restricting their displays to select attendees and/or media. I always thought the purpose of a heavily attended convention was to attract as many eyes, ears and minds as possible to your 10×20 corner. Planting impressions via convention exhibition can be as varied as: 1) creating a compelling exhibit environment; 2) engaging visitors with interactive demos and presentations; 3) offering memorable premiums or "tchotchkes" that reinforces messaging and of course, 4) drawing conventioneers with the oldest lure of all – 100% Grade A, unfiltered, tank-top wearin' sex appeal! This year, two major home entertainment companies went the BAO route: DTS and Dolby.
I've been attending CES since 1997. To my recollection, those two home theater giants always had standard access exhibits. Attendees could freely roam the different sections, or feel themselves age while standing in line for the latest home audio demo, usually with the goal of securing another CES tradition: the demo disc. Last year, the DTS booth was so generous with their 2015 Demo Blu-ray that you didn't even need to sit through the spiel to obtain it. People were plucking handfuls without breaking stride. So maybe DTS pulled back due to diminishing resources (i.e. fewer 2016 Demo Discs to go around). I absolutely get that some aspects of convention business require private meeting spaces. But when two legacy audio brands opt to go exclusive, that's a red flag. Maybe in their eyes, we're all just rubber-necking, sticky-fingered lookie-loos. I suppose I shouldn't be surprised. As with most 21st century American corporations, a single million dollar check is far more valuable more than 10,000 $100 checks.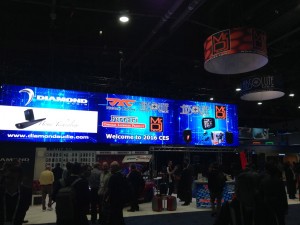 Caboose Thoughts
Often I've said "This is my last CES." For the 20 times attended and the 15 shows covered, the cliché still applies: it really takes it out of you. Yet for me, CES is as much social as educational. Over the years, I've developed strong bonds with several CE journalists, and my yearly pilgrimage to Sin City is the only time to catch up – and tell jokes only CE journalists laugh at — in person.
So while for the moment I proclaim with earnest conviction "This was my last CES and this time I mean it!" I can already anticipate the elation to be generated in mid-to-late June when the following email headline pops up in my inbox: "Registration Now Open for CES 2017."