Warner celebrates the 40th anniversary of "Dog Day Afternoon"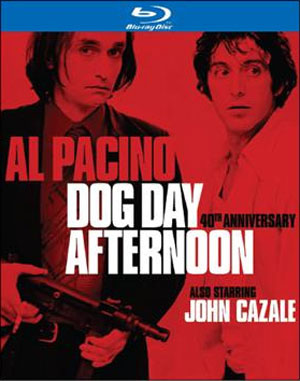 Warner Brothers Home Entertainment has scheduled a 40th Anniversary Edition of director Sidney Lumet's Dog Day Afternoon for release on Blu-Ray in September.
On a hot Brooklyn afternoon, two optimistic nobodies set out to rob a bank.  Sonny (Al Pacino) is the mastermind, Sal (John Cazale) is the follower, and disaster is the result.  Because the cops, crowds, TV cameras and even the pizza man have arrived. 
The two-disc release includes a DVD bonus disc of "I Knew It Was You: Rediscovering John Cazale", a documentary produced by Brett Ratner for RatPac Documentary Films, which debuted at the 2009 Sundance Film Festival. Both touching and an informative look at the actors craft, director Richard Shepards documentary talks to a who's-who of Cazale's contemporaries as well as younger actors who revere him. Shepard talks with Cazale's co-stars, friends, and admirers in a tribute to talent taken too soon.
The two-disc set also includes a Commentary Track by Sidney Lumet along with Two Extended Interviews and Two Short Films featuring Cazale in front of and behind the camera.
The release also contains the Vintage Multi-part Featurette "The Making of Dog Day Afternoon", consisting of four parts that explore the actual events that inspired the movie, casting, filming and aftermath.
In addition, the release also features the Vintage Featurette "Lumet: Film Maker" and the movie's Theatrical Trailer.
"Dog Day Afternoon: 40th Anniversary Edition will arrive in stores on September 15 for $24.98.