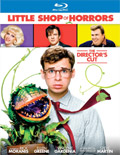 Little Shop of Horrors (1986)
Warner Home Video
Cast: Rick Moranis, Ellen Greene, Vincent Gardenia, Steve Martin
Extras: Theatrical and Director's Cut, Commentary Track, Deleted Scenes, Outtakes, Documentary, Trailers
Rating:
"Little Shop of Horrors" may not really qualify as a horror movie, but I feel it nonetheless fits perfectly in the theme and spirit of Halloween. Warner Home Video has just prepared a glorious Blu-Ray version of Frank Oz's version of the movie, and boy, was I ready to revisit this film.
Seymour Krelborn (Rick Moranis) is a nerdy clerk in a failing flower shop on Skid Row in New York. Just as the shop's owner Mr. Mushnik (Vincent Gardenia) decides to throw in the towel for good and close shop for good, Seymour comes up with an idea. He has acquired a strange and bizarre plant the other day and he feels that by putting it in the front window, people may be getting curious about it and stop by. And lo and behold, no sooner does he set the flower out for the world to see that the store begins to flourish with new business. Lovingly, Seymour names the plant Audrey II in reference to Audrey (Ellen Greene), his coworker and not-so-secret crush.
But there's a darker side to this story, as the plant is not of the vegan type. Looking very much like a fly trap, one day Audrey II (Levi Stubbs) begins to speak to Seymour and request blood for food. Piercing his own fingers at first, a few drops of blood no longer satisfy Audrey as the plant quickly grows to enormous proportions. To accommodate its increasing thirst, the pant suggests murder… and hesitantly Seymour obliges, taking him down the road of conflicted emotions and a growing ego, boosted by the personal successes that Audrey provides him with in return for nourishment. But along the road, Seymour realizes that there can not be a happy ending for him and Audrey II, the invader from outer space, and he decides to run away. Only, Audrey II is already one step ahead of him…
"Little Shop of Horrors" is such a whimsical film that it is easy to forget sometimes that it has a very dark undertone as well. In fact, in parts, it can be fairly gruesome and frightening for younger audiences. Since the entire movie is played for comedy, however, dark scenes are quickly overplayed by comedy, providing laughs and relief.
One of the greatest charms of the film is the music that accompanies it. "Little Shop of Horrors" is a musical and it uses 50s style music to tell parts of the story and to give us a better understanding of the characters. Written by Alan Menken, the music is simply spectacular and features some incredible tunes-perhaps some of Menken's best work throughout his career, in my opinion. Catchy and foot-tapping, these tunes will get right into the feel-good part of your brain as the cast belts out songs like "Suddenly Seymour" or "Little Shop of Horrors."
The film also features a very cool supplemental cast, featuring comedians such as Steve Martin in a delicious bad boy role as a sadistic dentist, Bill Murray, John Candy, Jim Belushi and others.
Presenting it as a Blu-Ray book, Warner Home Video is presenting "Little Shop of Horrors" in a brand new 1080p high definition transfer that will blow your mind. Absolutely clean and free of any defects, the transfer looks pristine, making for an incredible presentation. With bold colors, the wonderfully rich production of the film leaps to life with never before seen vibrancy, while solid black levels underscore the grittiness of Skid Row and the darker underbelly of the story.
In addition, Warner also presents the movie's alternate ending as an option, for the first time inserted back into the movie as a Director's Cut, allowing you to see the film to end the way Frank Oz and his crew had originally envisioned and shot it.
Warner gives us a DTS 5.1 HD Master Audio presentation of the movie on this disc, and I could not be happier. Voluminous and with incredible body, the track rocks from beginning to end, making good use of the format and the lossless compression for the best possible experience. Dialogues are perfectly integrated and are never drowned out, keeping every nuance of the delivery intact, down to the littlest squeals in Ellen Greene's remarkable lisping performance as her voice breaks.
Apart form the alternate ending, Warner complements the release with a commentary track by Frank Oz. Oz can also be heard with commentary on the deleted scenes and outtakes that are also included on the disc. "The Story of Little Shop of Horrors" is a documentary that takes a look at the origins of the story, and how it had been developed into this particular movie. Take a look behind the scenes of the production and learn more about what was going on on the set.
The movie's two theatrical trailers round out the disc, but don't forget to take a look at the wonderful, glossy booklet that accompanies this release. It is filled with anecdotes and quotes, along with many still photographs and a personal note from Frank Oz.
I love "Little Shop of Horrors." I love everything about this film. Its story, its cast, its music, its style, its humor. For me this Blu-Ray release is a true highlight of my collection that I will revisit over and over again.