Look for Ash vs Evil Dead: Season 2 in August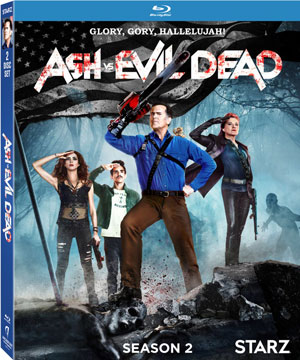 Groovy! Lionsgate Home Entertainment has just unveiled the upcoming release of the blood-drenched Ash vs Evil Dead: Season 2, scheduled for late August.
The second season roars back into action with Ash (Bruce Campbell) leaving his beloved Jacksonville and returning to his hometown of Elk Grove. There, he confronts Ruby (Lucy Lawless), only to find that she too is now a victim of evil and in need of Ash's help. The former enemies have to form an uneasy alliance to give them a chance of success as Elk Grove soon becomes the nucleus of evil.
Locked and loaded with the same twisted humor and gory kill scenes groovy fans of the franchise are used to, Ash vs Evil Dead: Season 2 continues the chainsaw-slicing, shotgun-blasting fun from the first season.
In addition to all the the season's episodes, the release will also be chock-full of bonus features, including a variety of Audio Commentaries and the beloved Fatality Mash-Up. Also included is the Season 2 First Look Promo Featurette, as well as a host of additional Featurettes, such as "Inside the World of Ash vs Evil Dead," "Up Your Ash," "Women Who Kick Ash," "Puppets Are Cute," "Dawn of the Spawn," "Bringing Henrietta Back," "The Delta" and "How to Kill a Deadite".
Evil won't stand a chance when Ash vs Evil Dead: Season 2 roars into your living rooms on August 22 with a $43.99 price tag for the Blu-Ray Disc and $34.98 for the DVD version.