Lionsgate is prepping "Evil Dead 2" for 4K release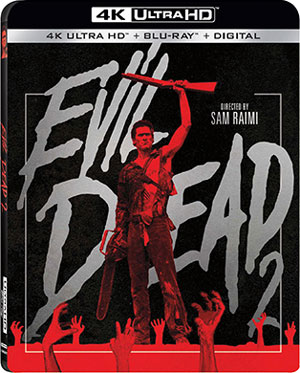 Lionsgate Home Entertainment has just added Sam Raimi's seminal Evil Dead 2 for release this winter, scheduling a 4K UHD version for early December.
Ash (Bruce Campbell), the sole survivor of The Evil Dead, returns to the same cabin in the woods and again unleashes the dead. With his girlfriend possessed and his body parts running amok, Ash must again single-handedly battle the damned in this unhinged horror classic!
The release will feature a brand new 4K Ultra HD version of the film with HDR, along with a series of cool bonus features, including the new Featurette Bloody and Groovy, Baby!, a Tribute to Sam Raimi's Evil Dead 2.
But also previously release features will be included, such as the Audio Commentary with writer-director Sam Raimi, actor Bruce Campbell, co-writer Scott Spiegel, and special make-up effects artist Greg Nicotero. Further, you will find Swallowed Souls: The Making of Evil Dead 2," "Cabin Fever – A 'Fly on the Wall, '"Road to Wadesboro: Revisiting the Shooting Location with Filmmaker Tony Elwood" and "Evil Dead 2: Behind-the-Screams" on the release.
In addition, the Featurette "The Gore The Merrier" will be part of the release, along with the Theatrical Trailer and Still Galleries.
Evil Dead 2 will arrive in stores as a 4K UHD Combo on December 11 and can be yours to own for only $22.98!