"Masterminds" get stupid rich in January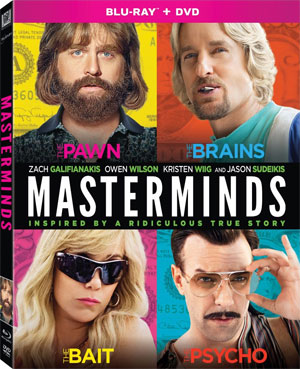 Twentieth Century Fox Home Entertainment has just announced the upcoming release of the action-comedy, Masterminds, bringing the film to Blu-Ray Disc and DVD in January.
Zach Galifianakis is armed and dangerously funny in this hilarious action-comedy inspired by an incredible but true story! David (Galifianakis) is an unassuming armored-truck driver who longs for adventure. Lured into the scheme of a lifetime by his beautiful work crush Kelly (Kristen Wiig) and her cohort Steve (Owen Wilson), David manages the impossible and makes off with $17 million in cash. But when his partners-in-crime keep the loot and set him up for a fall, David must dodge the authorities, evade a hitman (Jason Sudeikis) and find a way to take back what he rightfully stole!
A little thin on extras, the only bonus feature found on the release will be the promo Featurette "The Imperfect Crime".
"Masterminds" will arrive in stores on January 31.