Paramount celebrates "It's A Wonderful Life"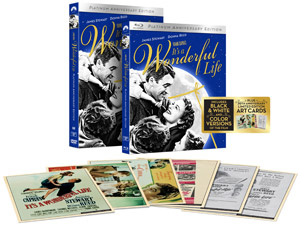 Paramount Home Entertainment has just announced that the studio is releasing a 70th Anniversary Platinum Edition of Frank Capra's It's A Wonderful Life on Blu-Ray Disc and DVD this week.
George Bailey has so many problems he is thinking about ending it all – and it's Christmas! As the angels discuss George, we see his life in flashback. As George is about to jump from a bridge, he ends up rescuing his guardian angel, Clarence. Clarence then shows George what his town would have looked like if it hadn't been for all of his good deeds over the years. Will Clarence be able to convince George to return to his family and forget suicide?
This new release will feature a beautifully colorized version of the film and the original black-and-white movie.
In addition, the release will also contain "The Making of It's A Wonderful Life," a Documentary hosted by Tom Bosley, and the movie's Original Trailer.
Both the Blu-Ray and DVD set also include collectible, limited edition Art Cards featuring images of original ads and lobby cards.
"It's A Wonderful Life" should be in stores starting tomorrow.