"The Walking Dead" rise again in August
Anchor Bay Entertainment has announced details about the upcoming release of AMC's The Walking Dead: The Complete Sixth Season, bringing the latest season of the show to your home, just in time to build anticipation for the launch of the season 7 broadcast in early October.
Season Six starts with Alexandria's safety shattered by multiple threats. To make it, the people of Alexandria will need to catch up with our survivors' hardness while many of Rick's people will need to take a step back from the violence and pragmatism they've needed to embrace. These reversals won't happen easily, or without conflict. But now Rick's group is fighting for something more than survival… They're fighting for their home, and they will defend that at any cost, against any threat, even if that threat comes from within.
The release will include Commentary Tracks and a selection of Deleted Scenes, as well as Inside & Making Of Pieces and a handful of Featurettes. The Blu-Ray version will also feature an Alternate Negan Scene.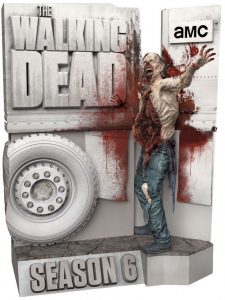 Anchor Bay will once again create a number of retailer-specific versions of the release, like a Steelbook Edition for Target, a Lenticular Cover version for Best Buy and a version with an Additional Bonus Disc for Walmart, containing over 70 minutes of exclusive footage from the
Madison Square Garden Fan Premiere Event.
"The Walking Dead: The Complete Sixth Season" arrives on August 23 for $69.99 on DVD and $79.99 on Blu-Ray Disc.
In addition, Anchor Bay has also teamed up with McFarlane Toys once again to offer a Limited Edition that features a Truck Walker Display Case created by McFarlane Toys. The set will contain the same bonus features as the regular release and will carry a $149.99 price tag when it arrives in November 2016.