"GoodFellas" gets 25th Anniversary treatment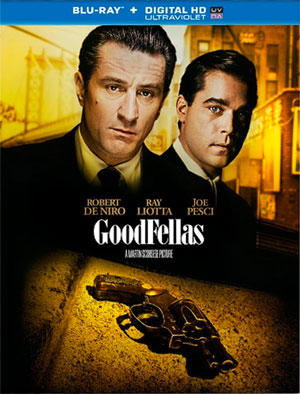 Warner Brothers Home Entertainment has just announced an 25th Anniversary Edition of Martin Scorsese's GoodFellas, slated for release on Blu-Ray Disc and DVD in May.
"GoodFellas" explores the criminal life like no other movie.  Following the rise and fall of a trio of gangsters over 30 years, it's an electrifying, fact-inspired tale of living – and dying. Based on the true-life best seller "Wiseguy" by Nicholas Pileggi, the film earned six Academy Award® nominations, including Best Picture and Best Director and was named 1990's 'Best Film' by the New York, Los Angeles and National Society of Film Critics.  In 2000, GoodFellas was selected for preservation in the National Film Registry by the US Library of Congress.
The release will feature a new transfer, remastered from a 4k scan of the original camera negative, supervised by Martin Scorsese.
At the heart of this new 25th Anniversary Edition of the movie is an All-New Documentary, which includes interviews with the Director, cast and some of your all-time favorite movie gangsters! Join some of Martin Scorsese's greatest gangsters – Robert De Niro, Leonardo DiCaprio, Harvey Keitel, Ray Liotta, Jack Nicholson and Joe Pesci – to discover what it's like to work for perhaps the greatest gangster director of them all.
In addition, the release will contain all the bonus materials found on the film's previous release, as well as a 36-Page Photo Book.
The "GoodFellas: 25th Anniversary Edition" will arrive in stores on May 5 with a $34.99 sticker price.