Disney lets loose "101 Dalmatians" as a Blu-Ray Diamond Edition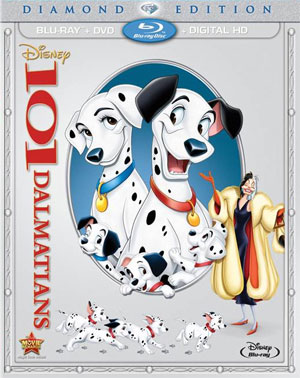 Walt Disney Home Video has just announced the upcoming release of their classic animated feature film 101 Dalmatians, bringing the film to high definition as a Diamond Edition Blu-Ray release, scheduling this new release of the beloved movie for February.
Pongo, Perdita and their super-adorable puppies are in for thrills, hilarious spills and an epic action-packed adventure when they face off with Cruella De Vil, Disney's most fabulously outrageous villainess. When Cruella dognaps all of the Dalmatian puppies in London, brave animal heroes launch a daring plan to save all puppies from Cruella's clutches!
Not only will the release feature a brand new 1080p high definition transfer of the movie, accompanied by a DTS 7.1 HD Master Audio track, but it will also come loaded with bonus materials, some new and some culled from previous releases.
In general, expect to find most of the bonus materials from the DVD Diamond Edition on this release, along with an All New Short Film "The Further Adventures of Thunderbolt". Also new to the release is the 1961 Walt Disney Presents "The Best Doggoned Dog in the World".
But there's more new supplements to be found, such as Lucky Dogs, DisneyView plus Dalmatians 101: Hosted by Cameron Boyce.
The "101 Dalmatians: Diamond Edition" will also include the DVD version and DigitalHD version of the film, and will be unleashed on Blu-Ray Disc on February 10 an can be yours to take home for $39.99.