A look behind the scenes of "Halloween"
As Anchor Bay Entertainment and Shout! Factory are rolling out the Halloween Complete Collection, featuring all the films in the franchise in one phenomenal Blu-Ray box set, we thought that many of you may never have seen our Halloween Production Diary or may simply have forgotten about it.
Therefore, we felt it was time to dust it off and bring it back to the forefront, for fans of the movies to read.
We created the Halloween Production Diary in 1999 when Anchor Bay was working on the first "Halloween Special Edition" DVD release. We got a first-hand behind-the-scenes look at the time at the machinations at work.
It was a fascinating read, we feel, and its till is, because it shows you how elaborate and involving the production of a solid special edition release is. From digging through storage facilities to locate old posters and lobby cards for reprint, all the way to uncovering the original camera negatives to make new transfers, the creation of the Special Edition had the hallmarks of big drama and big payoff. And just when everyone, including the DVD's producer Bill Lustig, thought everything was ready to go, the unexpected happened and completely new footage surface. Footage that no one even knew existed… Sound interesting to you? You can read the entire multi-part Halloween Production Diary here.
It may not be entirely relevant to the release that is coming your way next week with Halloween, Halloween II, Halloween III: Season of the Witch, Halloween 4: The Return of Michael Myers, Halloween 5: The Revenge of Michael Myers, Halloween: The Curse of Michael Myers, Halloween H20, Halloween: Resurrection, Rob Zombie's Halloween and Halloween II in the box, but we feel the Diary is still relevant. Some of the features explored and described there have become staples for "Halloween" bonus materials, and it is things such as the discovery of the new footage that has led to the recreation of the correct versions of some of the movies for both their theatrical and their television cuts.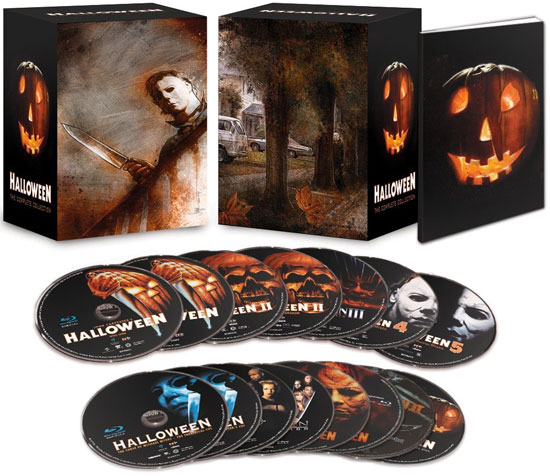 Enjoy the read and make sure to keep your eyes open for the Halloween Complete Collection that is packed with tons of bonus materials and if you haven't checked out the full details, make sure to take a look here. In case you forgot, it is heading your way on September 23 for $169.99. Amazon actually has it on sale currently for $50 off!