Liam Neeson is in "Cold Pursuit"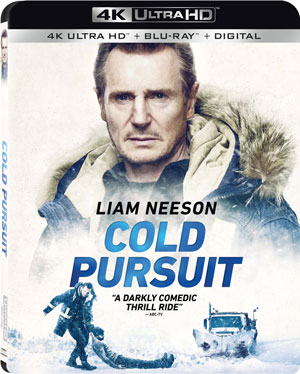 Lionsgate Home Entertainment has added the action thriller Cold Pursuit to its line-up, bringing the movie to 4K UHD, Blu-Ray Disc and DVD in May.
Featuring a wildly entertaining mix of dynamic action and dark humor, Cold Pursuit stars Liam Neeson as Nels Coxman, a snowplow driver whose quiet family life is upended after his son's murder. Nels begins a vengeful hunt for Viking, the drug lord he holds responsible for the killing, eliminating Viking's associates one by one. As Nels draws closer to Viking, his actions bring even more unexpected and violent consequences, as he proves that revenge is all in the execution.
Aside from the feature film, the high definition releases will also include a selection of Deleted Scenes, as well as Interview Featurettes with Actor Liam Neeson and Director Hans Petter Moland.
All versions fo the release will also include the Featurette "Welcome to Kehoe: Behind the Scenes on Cold Pursuit"
Cold Pursuit will be in stores on May 14 and can be yours for $42.99 on 4K UHD, $39.99 on Blu-Ray Disc, and $29.95 on DVD.