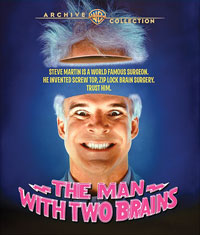 The Man With Two Brains (1983)
Warner Home Video
Cast: Steve Martin, Kathleen Turner, David Warner, Sissy Spacek
Extras:
Rating: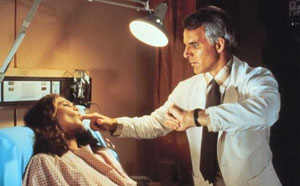 As part of their Archive Collection, Warner Brothers Home Entertainment has just released Carl Reiner's 1983 cult comedy The Man With Two Brains. It marks the movie's first release in high definition and I was eager to dive right in.
The Man With Two Brains is a mad scientist story with a lot of humor and a lot of heart. It's what makes it so special. The mad scientist—perfectly played by Steve Martin—is not so much bent on dominating the world, but is driven by a much more ulterior motive—love.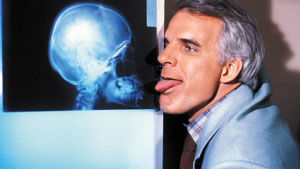 After recently losing his wife, acclaimed brain surgeon Dr. Hfuhruhurr (Steve Martin) injures Dolores Benedict (Kathleen Turner) in a car accident. To save her life, he performs surgery on her, and as he continues to treat her condition, Dolores uses the situation to charm her way into the doctor's good graces. In fact, with her calculating mind and cold heart, she charms her way into his not insubstantial inheritance by pretending to love him and becoming his wife.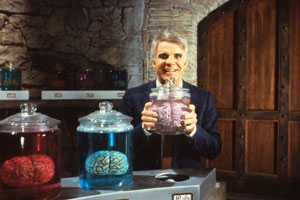 Awkward in social matters and completely driven by his work, Hfuhruhurr never realizes that he is the victim of the gold digger's scam until Anne, one of his subjects, opens his eyes. The weird thing, though, is that this subject is a brain. A talking brain, and before long, Hfuhruhurr falls in love with Anne and is soon determined to give her a body.
But Dolores has something to say about that!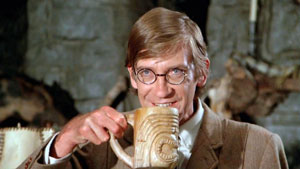 The Man With Two Brains is a hilarious caper. It works on so many levels and with a tremendous cast that also includes luminaries like Sissy Spacek, David Warner, James Cromwell and Jeffrey Combs, the movie is fun and incredibly entertaining.
On this Blu-Ray version that Warner Brothers Home Entertainment is presenting here, the studio is finally giving us a 1080p high definition transfer of the movie in its original 1.85:1 widescreen aspect ratio. This is especially pleasing because the movie features some beautiful cinematography and wondrously vivid colors, all of which has been nicely maintained in this version. The image also has solid black levels, enhancing the film's atmospheric settings and giving the film the right amount of visual depth and with good image detail, watching The Man With Two Brains in high definition is sure to please fans.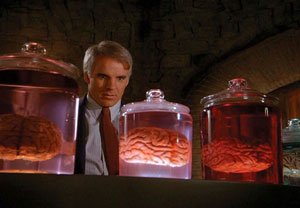 The movie's original mono audio track is included on the disc, presented in a stereo track that has a nice and natural, if undramatic, frequency response. Dialogues are well integrated and never drowned out. The movie contains a well-crafted and lively music score that blends nicely with this comedic film.
No bonus materials are included on the release, unfortunately, but since this is a very affordable release in Warner's Archive Collection line, this is hardly the place to complain, particularly, since this disc finally affords us the opportunity to own and enjoy the movie in glorious high definition.
Do yourself a favor and get this jewel of a comedym because, in my opinion, it is just vastly underrated!