Lionsgate hands out "The Assignment" in June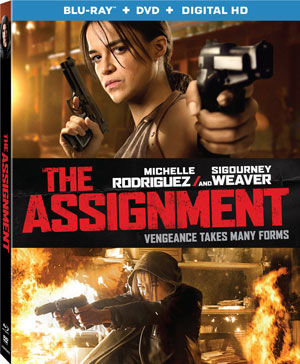 Lionsgate Home Entertainment has added Walter Hill's latest movie, the electrifying thriller, The Assignment, to its line-up, scheduling a Blu-Ray Disc and DVD version for release in early June.
Legendary director Walter Hill gives the revenge film a modern neo-noir twist with this electrifying thriller. Hit man Frank Kitchen (Michelle Rodriguez) is given a lethal assignment, but after being double-crossed, he discovers he's not the man he thought he was — he's been surgically altered and now has the body of a woman. Seeking vengeance, Frank heads for a showdown with the person who transformed him, Dr. Rachel Kay (Sigourney Weaver), a brilliant surgeon with a chilling agenda of her own.
Aside from the film itself, you will also find a "Filmmaking Portraits" Photo Montage on the disc as a bonus feature.
The Assignment will be available on June 6 and can be yours for $24.99 on Blu-Ray Disc or $19.98 on DVD, respectively.