"Some Kind of Beautiful" is hitting home video in December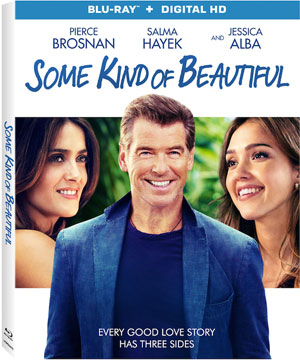 Lionsgate Home Entertainment has added Some Kind of Beautiful to its roster, scheduling this hilarious romantic comedy about finding love in all the wrong places for release on Blu-ay Disc and DVD in December.
Richard (Pierce Brosnan) is a successful college professor who gives up a steady stream of one-night-stands and beautiful undergrads for fatherhood with much younger Kate (Jessica Alba).  Three years later when Kate falls in love with someone else and moves out, she sends her sister, Olivia (Salma Hayek), to make sure Richard is properly caring for there son. Assuming Richard is back to his irresponsible playboy lifestyle, Olivia is shocked when she starts to fall in love with him, herself.
Aside form the feature film, the release will also contain an in depth behind-the-scenes featurette called "Inside the Heart of a Romantic" with interviews with the cast and crew.
"Some Kind of Beautiful" will be in stores on December 1 for $19.99 on Blu-Ray and $19.98 on DVD.