March sees "Dog Soldiers" in the thick of horror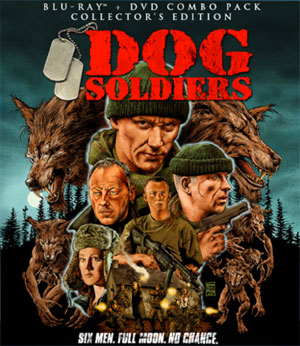 Shout! Factory has just added Dog Soldiers to its line-up, scheduling the film for release as a Collector's Edition under its Scream Factory label in March.
A group of soldiers dispatched to the Scottish Highlands on special training maneuvers face their biggest fears after they run into Captain Ryan – the only survivor of a Special Ops team that was literally torn to pieces. Ryan refuses to disclose his mission even though whoever attacked his men might be hungry for seconds. Help arrives in the form of local girl who shelters them in a deserted farmhouse deep in the forest…but when they realize that they are surrounded by a pack of blood-lusting werewolves, it's apparent their nightmare has just begun!
While no bonus materials have been announced yet, the studio promised that the movie's new transfer will also be accompanied by new bonus features. Perhaps we will even see material that has been culled from Artisan's 2002 DVD release of the film, which included a commentary track and featurette. Naturally, we will keep you posted as new information becomes available.
"Dog Soldiers" will arrive in stores on March 10 for $29.93 as a Blu-Ray/DVD Combo Pack.