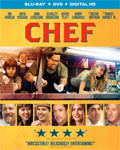 Chef (2014)
Universal Home Video
Cast: Jon Favreau, John Leguizamo, Dustin Hoffman, Sofia Vergara, Scarlett Johansson, Robert Downey Jr.
Extras: Commentary Track, Deleted Scenes
Rating:
Every once in a while, you are looking for a film that is simply entertaining. It doesn't have to be epic, it doesn't have to be an all-glamorous Hollywood blockbuster and it doesn't have to a super-polished. Just a feel-good movie that will pass the time in style. "Chef" turned out to be exactly such a movie and I am glad I checked it out when Universal Home Entertainment sent the Blu-Ray disc my way.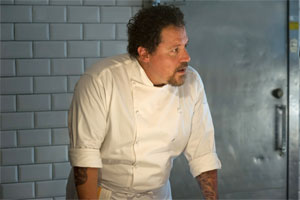 Carl Casper (Jon Favreau) is a successful and gifted chef in a trendy LA restaurant, but he often feels that the inflexibility of the restaurant's owner (Dustin Hoffman) is shackling him. When famous food critic Ramsey Michel (Oliver Pratt) visits the restaurant and is not impressed with the menu at all, which consists of the standard fare the restaurant had been serving for years, Casper's career takes a nose-dive. Shattered by the damning review, Casper lashes out at the food critic, further damaging his reputation. Before he has the opportunity to cook another meal for Michel in order to prove his qualities, Casper gets into an argument with the owner and quits his job in frustration. With his career and reputation in the dumps he is at a loss what to do next, when his ex-wife (Sofia Vergara) suggests he should go back to his roots, to his real love of cooking and open a food truck.
Getting financial help from old acquaintance in Miami (Robert downing Jr.), Casper and his son Percy (Emjay Anthony) set about to fix up an old food truck, when Casper's buddy Martin (John Leguizamo) joins them and three spend the summer taking the food truck from Florida to LA, one city at a time. Fueled by young Percy's tech savviness to promote the new business, and by the incredible street food they deliver, Carl Casper is quickly reclaiming his reputation as an incredible chef while also forging a lasting bond with his son—something he had so desperately been missing.
As the movie sets up its premise and gets into the second act, we all know, of course, how this film will end. It is a film of self-discovery and a coming-of-age story that has such a warm undertone that you simply know—but as a viewer you don't care. You are so absorbed in the story itself, and in this case it is the journey that is so charming to witness.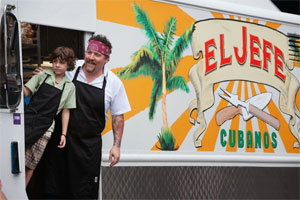 Most of the film's magic comes from its cast. Jon Favreau not only stars in the film but he also wrote and directed it, and his portrayal of Carl Casper feels truly heartfelt and honest. And, let's face it, with John Leguizamo as your side-kick you simply cannot go wrong. But it is also the smaller parts that fill the movie with character. Sofia Vergara is simply wonderful as the supportive ex-wife, while Dustin Hoffman does a great job playing the cranky old man who cares only for his own opinion/ And then there is Robert Downey Jr, who makes his two-minute appearance an insanely memorable highlight of weirdo affability.
The movie does have a number of weak spots where plausibility gets in the way of the story, but for the most part, it is easily possible to gloss over these moments in favor of an expedited story.
Universal Home Entertainment is presenting "Chef" in a beautiful 1080p high definition transfer on this disc that truly shines. It brings out the colors of the multi-facetted locations of the film with glorious hues. Whether it's sunny California, balmy Florida, the colorful streets of the French Quarter in New Orleans, or the streets of Austin, the transfer always manages to bring the moments and locales to live with vivid colors, giving the film a richness you might not have expected. Black levels are rock solid, giving the film depth throughout.
A DTS 5.1 HD Master Audio accompanies the movie, adding to the overall atmosphere. With cool local music and a generally active sound field, the track always feels natural, bringing the story and environments to life. Dialogue is well integrated and understandable at all times.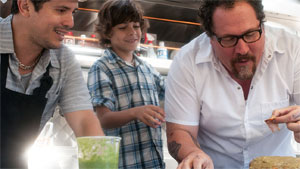 As extras, the release comes with a commentary track by Jon Favreau and Chef/Co-producer Roy Choi, who is best known for his own gourmet Korean Taco food truck business. The track is perfectly befitting, covering the conception and making of the film, but also brings out the passion for food both of them have and discussing how our society has become so much more food-savvy and is now embracing international cuisine more than ever.
A handful of deleted scenes are also included on the disc.
"Chef" was a pleasant surprise and a thoroughly entertaining movie. It is not revelatory or epic, but instead charms you with its characters and their motivation to find their own happiness and place in life. Jon Favreau and John Leguizamo have an incredible chemistry and create the perfect buddy-pair with personae that complement each other nicely. Give the movie a try. You won't regret it, and you will most likely want to go out and grab a bite afterwards, because the food is every bit as tantalizing as the story is enamoring.