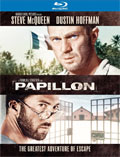 Papillon (1973)
Warner Home Video
Cast: Steve McQueen, Dustin Hoffman
Extras: Featurette, Booklet, Theatrical Trailer
Rating:
There are certain films that you never forget once you have seen them. "Papillon" is one of these truly rare movies. Based on Henri Charriere's real-life experiences that he immortalized in his bestselling novel of the same name, "Papillon" is the story of a man whose will is stronger than his physical body and ultimately wills himself free from prison despite all the odds he faces. Brought to the screen in glorious images and a superb cast, "Papillon" moves and inspires without being melancholic or melodramatic. The fact that is a real-life story only adds to the significance of this motion picture that has been masterfully brought to life by director Franklin J. Schaffner in 1973.

Named after the butterfly tattoo he carries on his chest, Papillon (Steve McQueen) is sent to Cayenne, a prison colony in French Guyana after being sentenced to life for a murder he did not commit. Determined to break free, Papillon is constantly on the watch for opportunities that could allow him to escape, when Dega (Dustin Hoffman), another convict, catches his eyes. The frail counterfeiter with his money may be able to buy him passage into freedom, so Papillon offers his protection to the seemingly weaker Dega. Soon the two are bound together by more than a business bond, and a deep friendship ensues that helps both of them sustain the daily ordeals of the pitiless prison camp.

Soon the two plan an escape together, but things go awry, forcing Papillon to escape by himself. But he doesn't get far. He is caught running into a set-up on his way to freedom. Back at the prison camp he is confined in solitary for two years before he is finally released back into the prison camp a weak and frail body, but still with a fiery mind. After restoring his health and strength with the help of Dega, Papillon soon plans his next escape. One night during a celebration he and some other inmates prepare to climb the prison walls when once again things go wrong and Papillon finds himself on the run once more, only a hair's breadth short of being caught.

"Papillon" is a role almost tailor-made for Steve McQueen, and I doubt that any other actor could have created this character just like him. Hardened, yet soft, rough, yet likable, outwardly fragile, yet determined to survive, the figure of Papillon is the embodiment of everything McQueen stood for as an actor. On his side is Dustin Hoffman in the role of the counterfeiter Louis Dega, a part that once again proved the actor's versatility and profound talent, and further solidified his posture in Hollywood. The chemistry between the two actors is immense and literally leaps off the screen, making it obvious that the film wouldn't have nearly as much impact if either one of them were missing from the line-up.
Similarly, the characters they play in the movie need each other. While Dega needs Papillon's strength and support in order not to wither and die under the harsh conditions, Papillon himself needs Dega's support and cleverness that breathes new life into him every time his body has been broken after yet another unsuccessful escape attempt. This is especially evident when they are separated for longer stretches and turn into different personalities, only to return to their original own ego when brought together for any length of time. Together their minds are stronger than the iron bars of any cell with the prospect of freedom constantly dangling in front of their eyes.

Warner Home Video has prepared "Papillon" on this Blu-Ray book release with a wonderful 1080p high definition transfer that restores the film's original 2.35:1 aspect ratio. In selected scenes a tad of film grain is evident, but for the most part, "Papillon" looks clean without any distracting film artifacts. The part that impressed me the most was the image detail. With its incredible resolution, the high definition transfer brings out every little nuance in the image and renders the image incredibly sharp throughout.
At the same time, it retains a very film-like look with bold, naturally rendered colors and deep, black shadows. Contrasts are very good too, with well-balanced highlights, giving the image depth and definition, beyond what you would expect from a movie that is almost 40 years old.

The disc contains a DTS 5.1 HD Master Audio track that is a marked improvement over the DVD audio in terms of clarity and transparency. Although some nice spatial integration is evident in the surround mix, it is mostly front-loaded without too much emphasis on the surround channels. Frequency response is rather good, although some limitations, especially in the low ends are noticeable, while the high ends sound a bit harsh at times. Given the film's original technical limitations however, these aspects are negligible given the release's stunning overall presentation.

Jerry Goldsmith's hauntingly beautiful and often aggressive score also has a great presence on this release with a mix that has been slightly fattened up, feeding parts of the orchestral instrumentation into the surround channels at times, to create more aural depth for the listener. As ever so often, Goldsmith manages to tell so much with his sensibly orchestrated music alone, dramatically increasing the impact of the images we see on screen, often without the needs for any further words.

Apart from the movie, the disc contains a featurette called "The Magnificent Rebel" that introduces viewers to the real Henri Charriere. It is a harsh reminder that the story of Papillon as we see it in the movie is based on real events, and at the same time is a reminder that this remarkable individual has indeed been able to outlive all the odds and injustice he faced. On the set of the movie, Charriere recollects some of the ordeals he went through, as he thoughtfully and teary-eyed walks through the sets to face his own past in a realistic reproduction. What a man he must be…

Not to be missed is also the 32-page booklet that is included in the release. It is a wonderful behind-the-scenes look with photographs from the set and the movie, along with interview snippets, production notes and bits of trivia.

"Papillon" is a masterful film that burns itself into the viewer's memory. It is entirely irrelevant that we are watching convicts and their attempts to escape from prison – where some of them undoubtedly belong. The way the film shows us these characters lets us have sympathy with them and primarily shows us what inhuman strength it took to survive the prison camps of Guyana and the hopelessness an innocent man must have faced. Papillon's willpower and his relentless inventiveness are an example how mind can successfully supersede matter and literally move mountains.
When Warner Home Video is dishing out a Blu-Ray book of one of their classic films you know it is going to be a stellar product. "Papillon" is no exception. MAgnificently restored and presented ,this release should definitely sit in your collection.