Flowers in the Attic arrives on DVD in April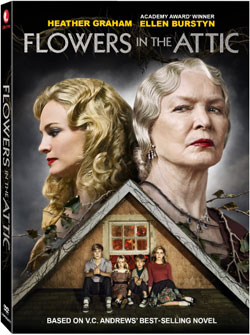 It flickered across TV screens only a few short days ago, captivating 6.1 million viewers, and today Lionsgate Home Entertainment has announced the upcoming DVD release of Flowers in the Attic, the latest film adaptation of the bestselling book by V.C. Andrews.
Staying more true to the novel than previous incarnations, "Flowers In The Attic" features an all-star cast that includes Heather Graham (Boogie Nights), Academy Award® Winner Ellen Burstyn (Best Actress in a Leading Role, Alice Doesn't Live Here Anymore, 1975) and Kiernan Shipka (AMC's "Mad Men").
 
It is a gothic story of four siblings who, after the death of their father, are torn from a peaceful life and subjected to abuse resulting from a dark, family secret. Abandoned by their mother and forced to endure unimaginable treatment living in the attic of their grandparents' mansion, the children form their own family unit. But as the oldest boy and girl come of age both emotionally and physically while caring for their younger siblings, they are entrapped by their family's sordid past as they try to survive and escape the harsh living conditions.
The release will feature the original 1.78:1 widescreen version of the movie and arrive with a Dolby Digital 5.1 audio track. As a bonus feature, the disc will also contain a Behind-the-Scenes Featurette.
"Flowers in the Attic" will arrive on DVD on April 15 from Lionsgate Home Entertainment for $14.98. No Blu-Ray version has been announced.