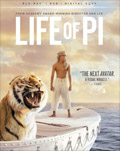 Life of Pi (2012)
20th Century Fox Home Entertainment
Cast: Suraj Sharma, Irrfan Khan, Tabu, Rafe Spall, Gerard Depardieu
Extras: Featurettes, Art Gallery, Storyboards, Digital Copy
Rating:
"Life of Pi" was an interesting phenomenon to me. The trailers did not appeal to me at all, giving me no reason to venture into a movie theater and see the film, despite the fact that I usually enjoy Ang Lee's films a whole lot. Somehow the trailer clips just didn't connect, but then the hubbub began. People began to talk about how great the film is and shortly after the Oscar buzz started, elevating the film to even higher status when it was nominated for eleven Academy Awards, including one for Best Picture. Since it seemed that I had missed out on a great cinematic experience I was very eager to check out the film when 20th Century Fox Home Entertainment sent over a copy for review.
Brought together by a mutual friend, a writer (Rafe Spall) meets with Piscine Patel (Irrfan Khan) to hear the life story, which according to their mutual friend is staggeringly remarkable and should help the novelist break through his writer's block.
Patel first describes his childhood, here he got his strange name from and how other children teased him as a child. Smart and thinking on his feet, Patel decided to shorten his name to Pi and draw direct comparisons to the mathematical constant of Pi. Within a day he becomes a school legend when he manages to recall countless digits of the infinite number that describes the ratio of a circle's circumference to its diameter.
While entertaining, the story is hardly as staggering as the writer had expected, so he presses for more of Pi's life story. What comes next is a parable that leaves the writer speechless and emotionally drained, flabbergasted and impressed, in utter and remarkable respect for the man whose family left his native India to make a better living in Canada, only to get caught on a sinking ship and shipwrecked in the company of a tiger for almost 250 days.
There can be no doubt that "Life of Pi" is a truly mesmerizing film. The captivating story is both exciting and exotic with just the right amount of danger and thrills to keep viewers glued to the screen. Presented in stunning visuals that often border on the fantasmagoric as Pi seems to begin to hallucinate, the movie is wonderful to behold. Awash with incredible colors and filled with visual effects, "Life of Pi" is quite the cinematic experience you would expect.
Although it starts out somewhat slow, the film constantly builds tempo and as it hurls itself through the stormy seas, hammered by winds and lashed by rains, you have all but forgotten that you are watching a movie. It is, however, when the film rolls around to its conclusion that it shows its real depth and begins to challenge the viewer's perception, leaving you breathless when the end credits begin to roll, wondering what really happened.
"Life of Pi" features a great cast of actors that are mostly unknown on these shores but come from a rich acting background in India. It gives the movie a touch of exoticism that nicely adds to the overall theme.
20th Century Fox Home Entertainment is presenting the movie in a glorious 1080p high definition transfer on this Blu-Ray release. The transfer is entirely free of defects or blemishes, coming straight from a digital master. Colors are incredibly bold with hues that wash over the screen with a richness you might not have seen before. Black levels are extremely deep, giving the image plenty of visual depth and adding to the high level of definition in the transfer.
THe audio on the disc arrives as a DTS 7.1 HD Master Audio track that is full bodied and active throughout. Making constant use of the surround channels, the audio presentation is surprisingly aggressive and throws you in the middle of the events as tempests roar though your living room.
In addition to the movie itself, 20th Century Fox Home Entertainment has added a series of featurettes to the release, such as "A Filmmaker's Epic Journey," "Tiger, Tiger Burning Bright" and "A Remarkable Vision," giving you look at he conception of the film, based on a novel by Yann Martel. Also included is an art gallery and storyboards from th film.
A DVD version, Digital Copy and Ultraviolet version of the movie is also included on the release.
"Life of Pi" is a wonderfully crafted film, brimming with spectacular imagery and a captivating story. If you haven't seen it, you owe it to yourself to take a look. If you *have* seen it, I have no doubt, it is a film you will want to revisit on Blu-Ray with its absolutely glorious presentation.