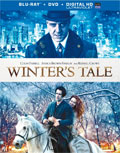 A Winter's Tale (2014)
Warner Home Video
Cast: Colin Farrell, Russell Crowe, Jessica Brown Findlay, Jennifer Connelly
Extras: Featurettes
Rating:
With atmospheric images and intriguing characters, the trailer for "A Winter's Tale" caught my attention when the film first made it to theaters, and now Warner Home Video is making a Blu-Ray version available, giving me every reason to check out the film for you.
"A Winter's Tale" is a unique mix of fairy tale, romance and drama, and it is hard to really put your finger on what it is that makes this film tick. At the turn of the 20th century, the burglar Peter Lake (Colin Farrell) suddenly finds himself confronted with his victim, Beverly Penn (Jessica Brown Findlay) while rummaging through a house he expected to be vacant. Suffering from consumption, the outgoing Beverly does not have long to live, and despite her upper-crust upbringing, she falls in love with Peter. A relationship that has no future any which way you look at it.
But there is something strange about Peter. He is a hunted man. Hard on his heel is Pearly Soames (Russell Crowe), who keeps sending his henchmen after the burglar in order to stop Peter Lake to perform his "miracle." Very quickly, it becomes evident, that Peter and Pearly have a history, but what's more, they are not really from this world. Are they angels, or demons, or, perhaps, both?
Imaginative in its story, intriguing in its look, and inventive in its storytelling, "A Winter's Tale" is a wonderfully charismatic film. It may not be easy to connect the dots at first, and you may not instantly connect with the characters, but as the story unfolds and plays out over the course of generations, "A Winter's Tale" reveals a depth and a heartfelt taste for the subtle that makes it a thoroughly enjoyable movie experience, far away from the overblown throw-away blockbusters of late. As the viewer buys more and more into the characters and their relationships, the film becomes increasingly dramatic and will certainly tug at your heartstrings before its conclusion.
Warner Home Video is presenting "A Winter's Tale" in a pristine 1080p high definition transfer on this release. The presentation is absolutely devoid of any blemishes or shortcomings, rendering an image that is not only awash with color but also revels in details and fine textures, making for a perfect high definition viewing. Powerful, carefully selected colors, that paint the screen with emotion, and a solid black level that helps root the image with visual depth and shadows, make "A Winter's Tale" a stand-out presentation that underscores the movie's own sensibilities.
A DTS 5.1 HD Master Audio accompanies the release, further enhancing the experience with a wide surround field and a lush musical score. Dialogues are well integrated and always understandable, while the sound effects make full use of the surrounds and create an exciting and active presentation that is as transparent as one could ask.
The release also offers up a few bonus materials, such as the featurette "A Timeless Love," which allows the cast and crew to elaborate more on the story and its unfolding. "Characters of Good and Evil" is a featurette in which cast members Colin Farrell, Jessica Brown Findlay and Jennifer Connelly discuss the characters they portray in more detail, peeling away the different layers that make up these personalities, while also exploring their roles in the story as a whole.
The disc also comes with a Digital HD UltraViolet version. Sadly, no actual Digital Download is included, forcing you to use the broken and borked up UltraViolet players to view the film on your device.
"A Winter's Tale" was not what I expected, and yet, although turning out to be something entirely different, it turned into a magical experience. Writer/director Akiva Goldsmith is a bit hit and miss, in my opinion. He's contributed to some amazing films, but he has also created some incomprehensible messes and films that lacked any kind of soul. undoubtedly many viewers will be reluctant to give "A Winter's Tale" a try for that reason, but I am glad to report, that this is, in fact, one of his better efforts, as he crafted a film that works on many levels and shows an emotional depth that truly grabs viewers despite the film's somewhat plodding pace. Just give it a try and judge for yourself.