All three Mimic films in one high definition box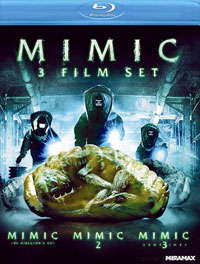 Lionsgate Home Entertainment has just announced the Mimic: 3 Film Set allowing you to witness the complete legacy of one deadly experiment in high definition for the first time ever.
in the original Mimic, acclaimed director Guillermo del Toro takes you on a terrifying ride in an electrifying thriller that brings the epic battle between man and nature to life when a team of scientists discover that their experiement in genetic engineering has gone horribly awry.
This movie will be accompanied by a Video Prologue by Director Guillermo del Toro, as well as the Featurettes "Reclaiming Mimic," "A Leap in Evolution – The Creatures of Mimic" and "Back Into The Tunnels – Shooting Mimic". Further, Deleted Scenes, Storyboard Animatics, a Gag Reel and the movie's Theatrical Trailer will be included.
Mimic 2 takes place four years after a cockroach-spread plague threatened to decimate the child population of New York City. Then, research biologists developed a species of "Judas" bugs engineered to "mimic" and overrun the diseased roaches in their grubby habitat. The plan worked until the creatures evolved to mimic their next prey"¦ humans! They were all thought to be dead, but the mutated cockroaches have now undergone another unimaginable metamorphosis and are once again threatening to take over! Bursting with amazing special effects and loaded with unstoppable excitement "" you'll thrill to every moment of this pulse-pounding crowd pleaser!
"Mimic 2" will be accompanied by the Featurette "5 Days of Mimic 2" and a look Behind the Sound of Mimic 2 along with a selection of Deleted Scenes.
the witness Mimic 3: Sentinel, the third and the scariest entry in the unstoppably suspenseful and terrifying Mimic legacy! When residents of his apartment building begin to disappear, Marvin comes to believe the unthinkable: the mutant breed of giant carnivorous insects that once plagued society are back and beginning to revisit their devastation! Though he's confined to his room due to a severe illness, Marvin must rally whatever support he can in order to exterminate these horrifying creatures before he ends up their next victim!
"Mimic 3: Sentinel" features an Audio Commentary with Writer/Director J.T. Petty, a Behind The Scenes Featurette and Cast Auditions.
"Mimic: 3 Film Set" will be in stores on May 1 for $29.99.