A Freddy Krueger Double Feature is on its way to Blu-Ray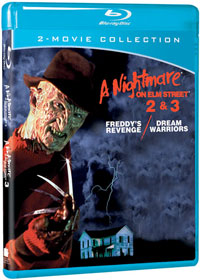 New Line Home Entertainment has just announced the upcoming release of some Freddy Krueger horror films, bringing A Nightmare On Elm Street 2: Freddy's Revenge and A Nightmare On Elm Street 3: Dream Warriors to Blu-Ray as a double feature in September.
In A Nightmare On Elm Street 2: Freddy's Revenge five years have passed since Freddy Krueger (Robert Englund) was sent howling back to hell. But now, a new kid on Elm Street is being haunted every night by gruesome visions of the deadly dream stalker. And if his twisted soul takes possession of the boy's body, Freddy will return from the dead to wreak bloody murder and mayhem upon the entire town.
When A Nightmare On Elm Street made a killing, horror fans shrieked for more. Soon the diabolic Freddy was resurrected with a vengeance — along with some of the most terrifying special effects ever to spatter the screen. Look for Robert Englund minus his Freddy face in the opening sequence. He's a real scream!
In A Nightmare On Elm Street 3: Dream Warriors, the demented killer Freddy Krueger, born the bastard son of a hundred maniacs, is back for fresh victims in this hallucinatory shocker co-written by original creator Wes Craven.
The last of the Elm Street kids are now at a psychiatric ward where Freddy haunts their dreams with unspeakable horrors. Their only hope is dream researcher and fellow survivor Nancy Thompson (Heather Langenkamp of the original Nightmare), who helps them battle the supernatural psycho on his own hellish turf.
No details or specs have been announced for the release yet, but don't expect too many bonus materials on this release. It will show up in stores on September 27 for only $19.98.