The Nesting unleashes its horrors in high definition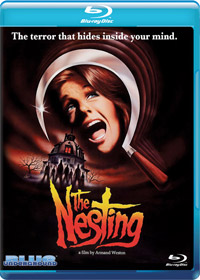 Blue Underground just added The Nesting to their line-up, scheduling a DVD and Blu-Ray version of the 1981 film for release in June.
Agoraphobic mystery novelist Lauren Cochran decides to leave the city in an attempt to cure her recent writer's block. She rents an old Victorian house in the quiet countryside, unaware of its shocking history. As those around her suffer increasingly violent deaths, Lauren begins to unravel the truth: the house was once an infamous brothel now haunted by the victims of a bloody massacre. Will her terrifying phobia allow her to escape from "The Nesting?"
Also known as "Massacre Mansion" and "Phobia", this eerie house of horrors was co-written, produced, and directed by notorious adult filmmaker Armand Weston, and stars Robin Groves, John Carradine, and Academy Award winner Gloria Grahame in her final film role. Long unavailable on home video, "The Nesting" has been newly transferred in High Definition from the original camera negative and is presented here in a never-before-seen Director's Cut!
As extras you will find Theatrical Trailers and TV Spots on the disc, along a with Poster & Still Gallery.
"The Nesting" will arrive on June 25 for $19.98 on DVD and $29.98 on Blu-Ray Disc.