The Griswolds go on vacation this summer – twice, in fact!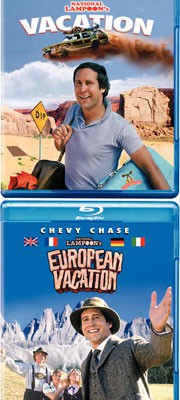 Warner Home Video is tickling your funny bone this summer with the high definition debut of National Lampoon's Vacation and National Lampoon's European Vacation, when both films arrive on Blu-Ray in August.
In National Lampoon's Vacation, Everything is planned, packed – and about to go hilariously wrong. The Griswolds are going on vacation. In the driver's seat is Clark Griswold (Chevy Chase), an Everyman eager to share the open road and the wonders of family togetherness. Myriad mishaps, crude kin (Randy Quaid), encounters with a temptress (Christie Brinkley), financial woes, Aunt Edna (Imogene Coca) on the roof, one security guard (John Candy) and 2,460 miles later, it's a wonder the Griswolds are together. There's never been a family vacation like it. Except maybe yours. And that helps explain why "National Lampoon's Vacation" remains so popular…and so very funny.
The release, featuring a 1080p high definition transfer with high definition audio will also include a Griswold Family Commentary Track with Chevy Chase, Randy Quaid, Anthony Michael Hall,Dana Barron, Director Harold Ramis and Producer Matty Simmons.
In National Lampoon's European Vacation we meet the Griswolds again, only this time they're into even zanier sightseeing, directed by Amy Heckerling (Clueless, Fast Times at Ridgemont High). Chevy Chase and Beverly D'Angelo return as Clark and Ellen, winners of a European tour on which their teenagers Rusty (Jason Lively) and Audrey (Dana Hill) join them. Deluxe accommodations…aren't. Clark tries left-sided English driving, leaving Stonehenge unhinged. In Bavaria a slap-dancing polka turns into a slaphappy free-for-all. It's a wacky, wide world of holiday road havoc!
No extras have been announced for this release yet, but we would expect to see Chevy Chase's Commentary Track from the DVD version to make a return here.
"National Lampoon's Vacation" and "National Lampoon's European Vacation" will arrive in the heat of summer – August 10 to be exact. Each disc will be available for $24.98.