Spartacus celebrates its 50th Anniversary in high definition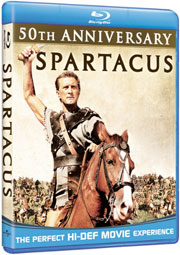 Universal Home Entertainment has just added a 50th Anniversary Blu-Ray Disc version of Stanley Kubrick's Spartacus to their line-up, scheduling the film for a release in May.
Director Stanley Kubrick tells the tale of Spartacus (Kirk Douglas), the bold gladiator slave and Varinia (Jean Simmons), the woman who believed in his cause. Challenged by the power-hungry General Crassus (Laurence Olivier), Spartacus is forced to face his convictions and the power of the Imperial Rome at its glorious height.
The inspirational true account of man's eternal struggle for freedom, "Spartacus" combines history with spectacle to create a moving drama of love and commitment.
The release features the 3-hour movie in a 1080p transfer in its original widescreen aspect ratio with a DTS 5.1 HD Master Audio track. As extras the release contains an Interview with Peter Ustinov, an Interview with Jean Simmons as well as Behind-the-scenes Footage.
Also included are Vintage News Reels and galleries of Production Stills and Concept Art. The release is rounded out by Costume Designs and Saul Bass Storyboards together with a Poster Gallery and Universal's myScenes feature.
"Spartacus" makes his stand and fights again on May 25 for $26.98.