Blue Underground releases Vampyres – uncut and uncensored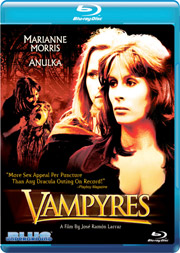 Blue Underground has just added a completely uncut and uncensored version of the erotic horror classic Vamyres to their release schedule, bringing the film to DVD and Blu-Ray Disc in March.
"They share the pleasures of the flesh, and unleashed the horrors of the grave!" screamed the ads. The beautiful Marianne Morris and stunning Playboy centerfold Anulka star as bisexual seductresses who roam the English countryside with an insatiable lust for the blood of mortals as well as the succulent bodies of each other. Director Jose Ramon Larraz packs this landmark adult hit with chilling atmosphere, shocking bloodshed and some of the most torrid sexuality of any vampire movie in horror history.
Also known as Daughters Of Dracula, this controversial 1974 cult classic was butchered repeatedly by censors around the world. Featuring a stunning new 1080p high definition transfer, Blue Underground will finally restore all of the controversial gore footage missing from other versions, complementing it with a new DTS 7.1 HD Master Audio track!
In addition, the release will contain an Audio Commentary with Director Jose Ramon Larraz and Producer Brian Smedley-Aston, as well as Interview Featurettes "Return of the Vampyres", featuring Marianne Morris and Anulka. The film's International Trailer and the U.S. Trailer will also be included.
"Vampyres" will be in stores on March 30 for $29.95.