Death Proof and Planet Terror arrive in high definition this winter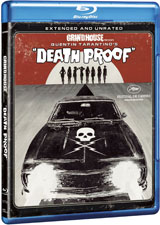 Genius Products has just added Blu-Ray Disc versions of the Grindhouse films Death Proof and Planet Terror to their winter release line-up.
Director Quentin Tarantino delivers an adrenaline shot to the heart with Death Proof, that features exhilarating high-speed action, jaw-dropping stunts, and some of the most quotable lines since "Pulp Fiction." Kurt Russell stars as a sociopathic stuntman whose taste for stalking sexy young ladies gets him into big trouble when he tangles with the wrong gang of badass babes. Their confrontation escalates to a hair-raising, 18-minute automotive duel with one of the girls strapped to the hood of a thundering Dodge Challenger.
The release will feature the extended and unrated cut of the film in a 1080p high def transfer with Dolby Digital audio. Expect to see all the extras from the DVD version to make their way to this high definition version also.
In Planet Terror, director Robert Rodriguez returns to the horror genre with a rip-roaring, zombie-infested rollercoaster of a movie. Rose McGowan, Freddy Rodriguez, Bruce Willis, and an all-star cast fight for their lives in the ultimate showdown between an army of flesh-eating mutants and a motley group of rag-tag survivors. Featuring one of the most memorable screen heroines ever and the now-legendary mock Machete trailer.
This film will also be released in an extended and uncut version in 1080p high definition, complemented by a Dolby Digital audio track. Coming as a 2-disc set, all the extras from the DVD version will also be carried over, making this one an exciting release to look forward to.
"Death Proof" and "Planet Terror" will make their Blu-Ray debuts on December 16. "Death Proof" will carry a $28.95 sticker price, while the 2-disc Blu-Ray set of "Planet Terror" will cost $34.95.