Everyone loves a good scandal in The Walker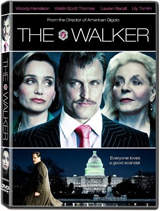 Image Entertainment and ThinkFilm have scheduled the release of The Walker in May, an exciting, scandalous thriller by writer/director Paul Shrader.
Set in Washington DC, "the movie follows Carter Page (Woody Harrelson), a popular socialite who serves as a confidant, companion and card partner to the wives of the most powerful men in America. When Carter's dearest friend (Kristin Scott Thomas) finds herself on the brink of a scandal, he covers for her. Suddenly, he finds himself the chief suspect in a criminal investigation, and this well-connected man-about-town becomes an outcast, hounded by the police and forced to hunt down the true culprit in order to clear his name.
The DVD will feature an anamorphic widescreen presentation of the movie in its original 2.35:1 aspect ratio, complemented by a Dolby Digital 5.1 audio track. As extras you will find a Making-Of Featurette on the disc also, as well as the movie's Theatrical Trailer.
Featuring a great supporting cast of leading ladies such as Lauren Bacall and Lily Tomlin, "The Walker" promises high wire entertainment, so look for it in stores on May 27 for $27.98.