Things vanish in Five Days from HBO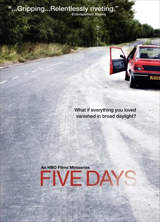 A taut crime thriller filmed in the tradition of popular British crime mysteries, HBO Films' miniseries Five Days is coming to DVD in March.
The series follows the inexplicable disappearance of a beautiful young mother in a quiet suburb of England and the troubling circumstances that leave her children abandoned far from home. As each of the five episodes unravels, it becomes clear that no one is quite as they seem. Not the grieving husband, not the investigators, and certainly not the young woman who befriends the family, drawn to both their predicament and the investigation.
The TV mini-series will arrive as a 2-disc set featuring all 5 parts of the series and will also contain a Featurette entitled "Behind the Mystery with Writer Gywneth Hughes," offering an intriguing behind-the-scenes look at the making and story of "Five Days."
"Five Days" will be in stroes on March 11 for $29.98.