Beowulf arrives in February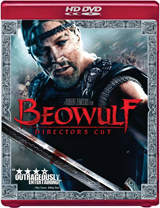 Robert Zemeckis' Beowulf has made it onto Paramount Home Entertainment's release line-up and has been scheduled for release on DVD and HD-DVD on February 26.
In the age of heroes comes the mightiest warrior of them all, Beowulf. After destroying the overpowering demon Grendel, he incurs the undying wrath of the beast's ruthlessly seductive mother who will use any means possible to ensure revenge. The ensuing epic battle throughout the ages, immortalizing the name Beowulf.
Academy Award® winner director Robert Zemeckis tells the oldest epic tale in the English language with the most modern technology, advancing the cinematic forum through the magic of digitally enhanced live action. The cast is led by Ray Winstone in the title role. Joining him are Academy Award® winner Anthony Hopkins as the cursed King Hrothgar, John Malkovich, Robin Wright Penn, Brendan Gleeson, Crispin Glover, Alison Lohman and Angelina Jolie as Grendel's mother.
There will be two DVD versions of the film available. The first one will feature the movie's theatrical cut in anamorphic widescreen with 5.1 Dolby Digital audio and a Featurette called "A Hero's Journey: The Making of Beowulf." It will carry a $29.98 sticker price.
In addition, a Director's Cut version will be sold, coming as a 2-disc set that contains a number of additional bonus materials. Interestingly the so-called Director's cut has the exact same length as the theatrical cut – go, figure.
As extras there are a number of Featurettesentitled, "A Hero's Journey: The Making of Beowulf," "Beasts of Burden," "The Origins of Beowulf," "Creating the Ultimate Beowulf," and "The Art of Beowulf." Also included are a series of Additional Scenes, entitled "Wealthow Shows Beowulf the Sundial," "Beowulf Boasts to the People of Herot," "Celebration and Seduction," "Wulfgar Greets Beowulf at the Stockade," "Beowulf's Day Unferth Finds the Horn," "Cain on the Barrows (Original)." The release is rounded out by the movie's Theatrical Trailer. It will carry a $34.98 sticker price.
The HD-DVD version will feature a widescreen version of the film with a TrueHD and a 5.1 Dolby Digital audio track and an additional set of extras. Apart from all the extras found on the 2-disc DVD set, you will also find the Featurettes "In The Volume," "The Volume," "'T' Time," "What is the E.O.G.?," "Lay of the Land," "Givin' Props," "Scanners," "Stunts and Rigs," "Plan of Attack," "Fight Me," "Baby It's Cold Inside," and "A Conversation with Robert Zemeckis" on the release. The disc will also feature some interactive wbe content that has not yet been announced. The HD-DVD version will carry a $39.98 price tag.