AdultSwim releases Frisky Dingo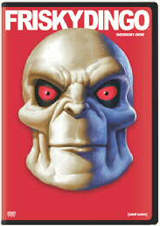 Warner Home Video will soon release the Adult Swim show Frisky Dingo on DVD as a Season One DVD.
Prepare yourself for one of the most complicated superhero-villain dichotomies ever. Meet Killface, the world's most evil villain whose mission of destroying mankind is derailed by the boring details of media buys, personnel staffing and marketing. And then there's Awesome X, the alter ego of billionaire Xander Crews, who is more concerned with the sales of his action figure line than foiling those plans and saving the world. Killface needs billions of dollars to fund the destruction of Earth with the Annihilatrix, and Xander needs a villain to drive interest in and sales of his action figure line.
The release will feature 154 minutes worth of the show and will carry a $19.97 suggested retail price when it comes to tores on March 25