The original Galactica 1980 TV series arrives on DVD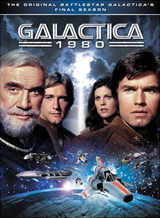 The original Battlestar Galactica TV series is coming to DVD under the title Galactica 1980 in December from Universal Home Entertainment.
The classic science fiction TV series lands on DVD for the first time ever with all ten thrilling episodes on two discs. See what happens when the original "Battlestar Galactica" crew finally makes the long-anticipated descent to Earth. With time running out and the Cylons closing in on their trail, Commander Adama (Lorne Greene) and the Galactica must work harder than ever before to help Earth create the technology necessary for battle.
Coming as a 2-disc DVD the release features the original fullframe presentation of the show with its original mono audio track. No extras will be included on the release, sadly when it hits retail stores on December 26 for $29.98.