Warner Home Video brings us A Scanner Darkly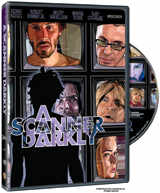 Based on a classic novel by Philip K. Dick, A Scanner Darkly was a surprise hit in theaters this year and it is now coming to DVD, courtesy of Warner Home Video.
Set in a not-too-distant future where America has lost its "war" on drugs, Fred, an undercover cop, is one of many people hooked on the popular drug, Substance D, which causes its users to develop split personalities. Fred is obsessed with taking down Bob, a notorious drug dealer, but due to his Substance D addiction, he does not know that he is also Bob.
The DVD will feature the movie in its original 1.85:1 widescreen aspect ratio in a transfer that is, of course, enhanced for 16×9 TV sets. The disc will also contain a 5.1 channel Dolby Digital audio track. As extras you will find a Commentary Track with Keanu Reeves, director Richard Linklater, producer Tommy Pallota, author Jonathan Lethem and Philip K. Dick's daughter Isa Dick Hackett on the DVD. Also included are two Featurettes covering the film. "One Summer In Austin: The Story OF Filming A Scanner Darkly" covers the movie's production as a whole, while "The Weight Of The Line: Animation Tales" covers the animation side of the movie. The release is rounded out by the movie's Theatrical Trailer.
No information is available as of yet whether Warner will also release high definition versions of the film, but we here think it is a fairly safe bet.
December 19 is the date, $27.95 is the price. Be there!